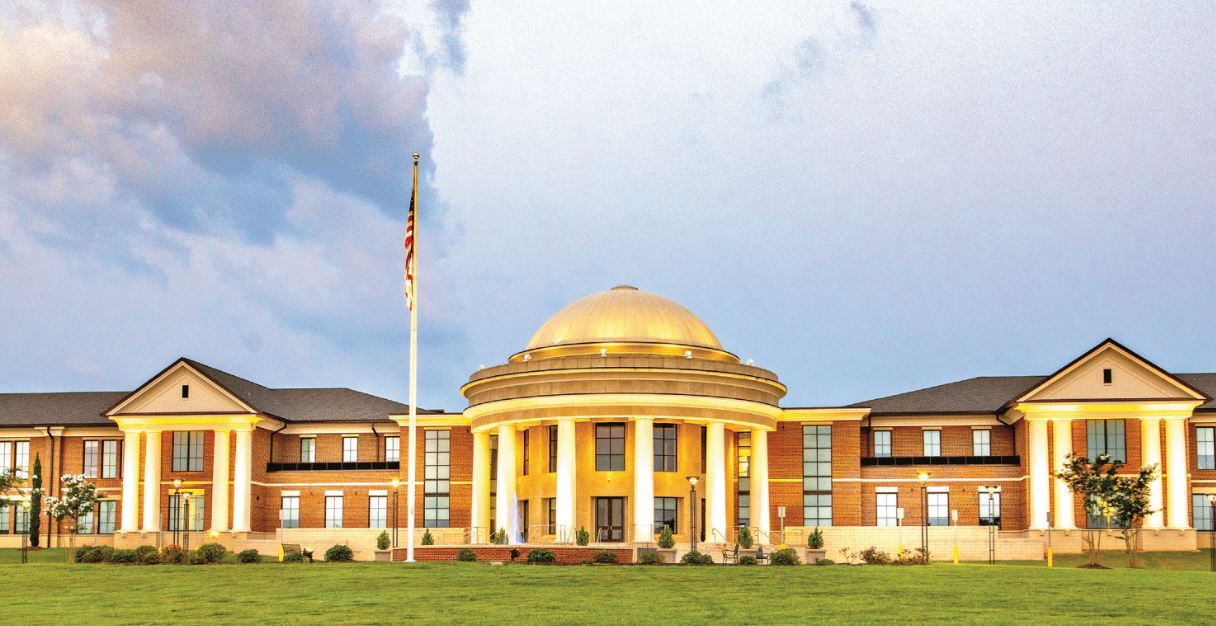 A Century of Warriors
Story by Barry Wise Smith. Photos by Brit Huckabay and courtesy of Margaret Dawson
This year, Alabaster City Schools awill celebrate 100 years of Thompson High School. What started as a small community school has grown to be the second largest high school in the state with over 2,100 students.
In 1920, the mill community of Siluria had an elementary and junior high school but no central high school. City leaders decided to create Thompson High School through the combination of three small community schools. Students from the small schoolhouse in Elliottsville were brought to the new school in a covered wagon called The Transfer, literally Alabaster's first school bus. The school was named for Thomas Carlyle (T.C.) Thompson, owner of the local textile mill, who donated the land and the majority of the funds to build the original high school building.
Thompson High School opened its doors on October 3, 1921, as part of the Shelby County School System. According to Grace Zhiderhoek, the first class graduated in spring 1922 and consisted of one boy and five girls. In 2013, Alabaster broke away from Shelby County and formed its own system—Alabaster City Schools—with plans in place to build a new high school. The school's current address—1921 Warrior Parkway—honors Thompson's founding year.
After breaking ground in 2016, Thompson High School opened in the spring of 2018. The 360,000-square-foot, state-of-the-art complex includes multiple career academies with dedicated classroom space, a 2,500-seat arena-style gymnasium, an auxiliary gym, a 1,000-plus-seat performing arts center, baseball and softball facilities, tennis courts, a competition track, and a 5,300-seat football and soccer stadium, with an adjacent field house that has coaches' offices and an indoor practice facility.
Dr. Wesley Hester, Thompson High School's principal since 2015, is proud of the facility but just as proud of the people inside and outside of it. "We have the layout, size, and space to accommodate all of our students," Dr. Hester says. "And the school is a direct reflection of input from people across the community—students, staff, residents, and city leaders, so as a result, the community loves it and we are all so proud of it."
In the 100 years since Thompson opened, Siluria became Alabaster, and Alabaster has experienced exponential growth, with no slow down in sight. "Changes at the high school have been a result of the growth of the Alabaster community," Dr. Hester says. "Our diversity has grown, and we embrace it. It has strengthened our community and our success."
While Thompson puts a strong emphasis on academics—97 percent of Thompson students graduate and 80 to 85 percent of those graduates go on to college—the school also concentrates on preparing students for a future in the workforce and technical education. Thompson's 10 Career Technical Education Academies offer students training in Business Management and Administration, Marketing, Education, Engineering, Computer Science, Human Services, Health Sciences, Government and Public Administration, and Television Production. Students work internships and shadow jobs in their preferred field, and many graduate with certifications that allow them to start a career immediately upon graduation. "We've increased the number of students who are getting career ready through the growth of our academy programs to over 14 career pathways," Dr. Hester says. "The students are gaining knowledge on how to be successful in the workforce—we're creating gainfully employed citizens. We make sure the students have the tools, talents, and skills to succeed. We want our students to be college ready or career ready upon graduation."
Since the system was founded in 2013, enrollment in AP classes has tripled, and Thompson now offers a dual-enrollment program with Jefferson State Community College to promote college readiness amongst its students. Reading and math metrics are up across the system, and ACT and SAT scores are also on the rise. Over the last five years, Thompson students have been awarded over $20,000,000 in scholarships. "We have built the mindset that coming from Thompson High School, every option is on the table for our graduates," Dr. Hester says.
And not to be overlooked, Thompson also has nationally recognized athletic and fine arts programs and extracurriculars to fit every student. Currently Thompson's men's athletic program is ranked sixth nationally with an overall ranking of eighth, and the football team is ranked number five in the country by MaxPreps. Since Dr. Hester came in 2015, Thompson Warriors have won over 15 state championship or runner up trophies, and in the last six years, over 140 student athletes have gone on to play college sports. The Thompson Marching Southern Sounds is the school's award-winning marching band, the Madrigals choral group has performed at the Alys Stephens Performing Arts Center, and the school's jazz ensemble has been recognized at the state level and will perform at the Alabaster Jubilee No. 1 at the end of September. The theater program has produced BIG, Footloose, and Grease, and the TV/broadcast program is the gold standard in Alabama and has been recognized multiple times by the Alabama Scholastic Press Association. "The number of organizations and extracurriculars is second to none," Dr. Hester says. "I'm so proud that every one of our students has a place."
Thompson High School also owes much of its success to the people who came before and the broad community support for Alabaster City Schools. The community support is phenomenal," Dr. Hester says. "And the parent support and involvement is unbelievable."
Margaret Dawson, a lifelong Alabaster resident and graduate of Thompson High School Class of 1977, has long been involved in preserving and celebrating the history of Alabaster and her alma mater. She has collected numerous pieces of Thompson memorabilia and has a collection of yearbooks that date back to the 1940s. As a Thompson student, Dawson was in Dr. Tommie Harrison's first Local History class. A history teacher at Thompson High School, Dr. Harrison spearheaded a project that had his students interview longtime residents to document history and stories before they were forgotten. As a result, the class published a local history book called Good Morning Yesterday. Subsequent classes of Dr. Harrison's published two additional books, and a second edition of Good Morning Yesterday was published and is now available for purchase on Amazon.com
Dawson loves stories of Warriors past. In a letter she was given, Dawson learned that Gladys Grubbs Bentley wrote Thompson's alma mater in 1932. "It is the song they still sing today," Dawson says.
Now celebrating 100 years, Thompson High School is honoring its storied past while looking forward to a very bright future. "Being a Thompson Warrior means something different to everyone," Dr. Hester says. "But at the end of the day, we're all Warriors."
ALABASTER HIGH SCHOOL
A former school for black students from Alabaster, Helena, Highland, and Pelham,
Alabaster High School had modest beginnings but a big heart with dedicated teachers
and administrators. Miss Stephens was the first principal and the last was Mr. John Hill who later became Dean of Alabama State in Montgomery. Mrs. Jesse McDade was the first PTA president while Mrs. Odessa Sawyer and Mrs. June Trennel were among the school's  first graduates. The yearbook and mascot were called The Vikings. Alabaster High School produced one graduating class in 1969 before integrating in the Thompson system in 1970.
Source: Good Morning Yesterday: A Salute to the Past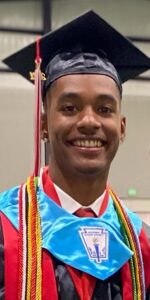 "Thompson High School is a community that elevates others. It's a special place. The entire Alabaster School System does their best to put students in the best situation for the next step, whatever that is. Thompson football was a big part of my life as well. It helped me to become a leader in my community. Hopefully the next generation will be as proud as I am to be a Thompson grad."
Tré Roberson, Valedictorian, Class of 2021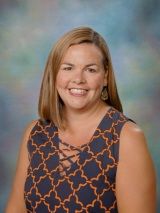 "My alma mater means more to me as the years roll by, and I am glad I have a front-row seat watching Thompson High School soar to new heights. I graduated in 1995. After living in Montgomery, my family and I moved back to Alabaster so that our two children could attend school here. I was teaching computer classes at Creek View Elementary when Alabaster City Schools was formed, and today I am a social worker for the school system. I consider it an honor to partner with families in our community and work with future generations. There is no greater joy as a school social worker than watching students graduate."
Marsha Roach, Interventionist, Class of 1995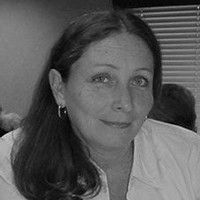 "As a graduate of the Thompson High School Class of 1977 and a lifelong resident of the community, I have had the opportunity to be a part of and watch the last 50 years of Thompson's growth.  Our schools have evolved from very small beginnings in the mill community of Siluria and surrounding communities in 1921 to the extraordinary educational system of today. For the families of alumni who have passed and for those still with us, we have so much to be proud of.  It's a great day to be a Thompson Warrior!"
Margaret Dawson, Class of 1977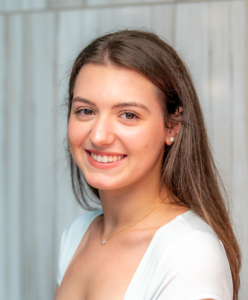 "I graduated from Thompson High School in 2012, and those years will always be some of my most treasured memories. Thompson prepared me with an amazing education and a solid foundation of values. My teachers invested their time and energy into making me a better human being, not just a student with a grade. I learned to work well with people from all different backgrounds. I discovered my love of music, community building, and cooking. I decided to pursue nursing as my career and prepared for that college path. I built friendships that I still have today. Thompson is a unique place, and I am so thankful to have had four wonderful years there!"
Katharine Drake Blackwell, Class of 2012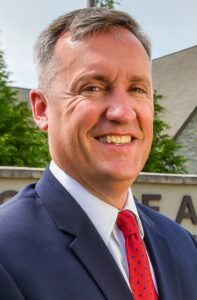 "My memories of Thompson High School revolve around sports—Friday night football games and baseball road trips. It all means so much to me. It has been incredibly cool to see my kids wear Thompson Warrior jerseys. Thompson means so much to my family and me."
Mayor Scott Brakefield, Class of 1993