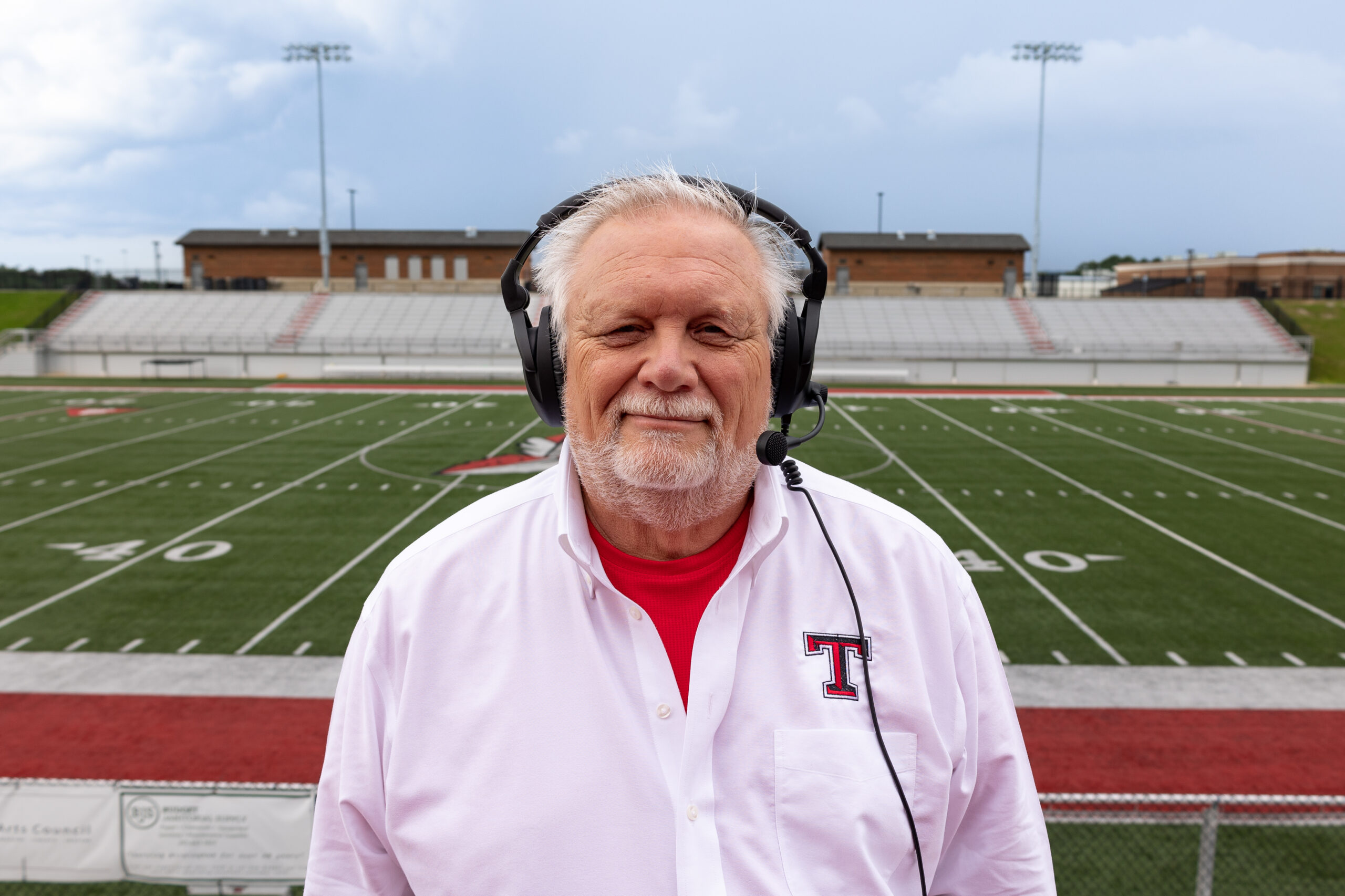 Jerry Young, Mayor Brakefield and our Cheerleaders help celebrate the past, present and future of THS football.
By Loyd McIntosh and Barry Wise Smith
Photography by Brit Huckabay, Brittani Grady and courtesy Mayor Scott Brakefield

Catching Up With Jerry Young, Voice of the Warrior Nation Network
By Loyd McIntosh
The 2022 edition of the Thompson Warriors football team promises to be another one for the record books. After winning three consecutive Alabama 7A state championships, nothing short of another title run is expected of this Warrior squad. Led by perhaps the best high school football coach in the biz, Mark Freeman, and a talented group of athletes hungry for a four-peat, excellence is the expectation on and off the field.
The same could be said about the Warrior Nation Network broadcast team. With production values that rival many college athletic programs, the Warrior Nation Network has become the benchmark for high school broadcast teams throughout the country. Led behind the scenes by Executive Producer Phillip Pritchard, The Warrior Nation Network's broadcasts are cobbled together by a group of talented individuals every Friday evening during football season.
Alabaster Connection caught up with Jerry Young, play-by-play announcer and "The Voice" of the Warriors, to talk about the meteoric rise of the Thompson Warriors and how the Warrior Nation Network is changing the expectation of high school football broadcasting.
Jerry Young began his broadcasting career 40 years ago, calling T.R. Miller High School football games for WKNU Radio in Brewton. Over the last four decades, he has dedicated his career to high school, calling games and hosting shows throughout the Southeast, including a stint as the Director of High School Sports for ESPN 97.3 the Zone, a former sports radio station in Birmingham. Young took over game calling duties at THS in 2015, around the time Coach Freeman got to the program.
The momentum for THS football began to change the moment Freeman walked in for his interview with Dr. Vickers. It was clear he knew his Xs and Os, but he also possessed a vision and an edge that radiated success. "He came in with the mindset of, 'we're going to build this thing like it should be' and that's exactly what happened," says Young.
More than anything else, Young says, Freeman had the vision to transform the football program from an occasional winning season and trip to the playoffs to one that would be a model for other programs around the country. Young says practices at Thompson are akin to college practices, players are expected to perform at a high level on and off the field, and every coach and team in the city—from pee wee to the high school varsity—are all on the same page.
 "Freeman came in wanting to change the culture, and he has. He's probably the most successful in his field of any person I've ever been around," Young says. "He's just as good of a man as he is a coach," adds Young. "He mentors these kids in a way that they're leaving Thompson and making a difference in the world, which is to me, more important than just winning."
"Even the little league teams run Freeman's offense. So it's full culture," Young adds. "From the time they get going in little league, everything is the same so by the time they get to the high school, there are no new plays to learn. I compare it to a minor league baseball team pipeline that just keeps on coming."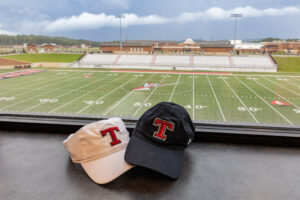 The 2022 roster is proof of the concept. Among the leaders on this year's squad are Peter Woods and Anquon Fegans, regarded as the top defensive end and cornerback in the country respectively. After watching the program vault to the top of the 7A heap, one thing Young has learned is that under Freeman and his coaching staff, leaders will emerge every season. "Freeman is one of the best at making the kids understand that if they will do these certain things, they will be successful," says Young. "This year's team is going to be good, the coaching staff is great, and the same atmosphere, the same culture, the same goals will all be in place."
"Every year I wonder the same things. Who will our quarterback be? Do we have enough players to be as good as we were the year before? I quit asking all those questions," he adds. "Obviously winning the state championship three times in a row is the answer to those questions."
As the voice of the Warrior Nation, Young is the most recognizable member of the broadcast team, however, he is quick to remind anyone and everyone that the Warrior Nation Network is a team effort of many talented individuals.
Produced by Phillip Pritchard, a Thompson High School graduate and owner of Video Visions Media Marketing, the team includes former WVTM-13 journalist Donnette Logan as sideline reporter, Former WJOX 94.5 FM  and current The Next Round personality Jon Lunceford as color analyst, Thompson High School broadcast journalism teacher and former sports journalist Christina Chambers as Associate Executive Producer, videographer and feature reporter Stu McCann, and game analyst and statistician Seth Hagan.
The Warrior Nation Network is unique among high-school sports broadcasts, forgoing a relationship with a local radio station for an all-digital format. The team broadcasts the audio via internet radio and simulcasts the audio with the video production streamed live on the NFHS (National Federation of State High School Associations) Network. Currently, Thompson games are broadcast on NFHS Network mobile apps for iOS and Android and TV apps for ROKU, Amazon Fire, Google TV, and Apple TV.
The genesis for the Warrior Nation Network came during Young's first meeting with Freeman and Alabaster City Schools Superintendent Dr. Wayne Vickers. "Really and truly Phillip and I started it together," Young says. Dr. Vickers looked at me, and he said, 'Well Jerry, what's it going to take to make this go?' I said 'the first thing you got to do is hire Phillip Pritchard, because I can't do production and on-air stuff.' He did, and it's been a good team effort."
"Since then several schools have contacted me about how we do that," Young adds. "We were one of the first ones on the cutting edge five years ago to go fully digital and to not look for a radio station to do the games on."
Throughout his 40-year career, Young has been behind the microphone calling many state championship games, but he says none of them come close to the last few years at Thompson. As a resident of the community for more than 20 years, Young says it's a joy to live and work in Alabaster where he has the opportunity to back up the values Freeman and the coaching staff work diligently to instill in the community's young men.
"Mark Freeman is such a good Christian guy in his beliefs and the way he teaches them, and he knows I have his back on the other end," adds Young. "Whether it's in the weight room or practice or after the game it's important to me to make sure that I put my best foot forward to them and make sure that I support what Freeman's teaching. So it is more of a Ministry."
Mayor Brakefield on his playing days
Alabaster native and former Thompson quarterback Mayor Scott Brakefield has seen the Warrior football program grow to amazing heights over the last four decades. As a young boy growing up in Alabaster in the '70s and '80s, Brakefield recalls how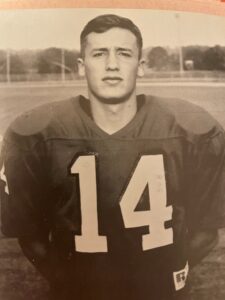 the community revolved around the Thompson Warriors. "I remember going to all the high school football games, when that was your big entertainment. There wasn't a lot to do in Alabaster back then. We were still growing up in a time when stores were closed on Wednesday nights and Sunday," says Brakefield. "Friday nights were huge," he adds. "Of course, we went to every home game, but I was also one of those guys searching out friends to hitch a ride to the away games."
By the time Brakefield made the varsity program in the early 1990s, Thompson had risen to 6A and had several good years and talented players, many signing with SEC schools and other high caliber programs. During his senior year in 1992, Brakefield quarterbacked the Warriors to a 7-3 record—with two of the losses being games he says the team really beat themselves. "We lost to Gardendale that year in a game that we shouldn't have where we turned the ball over four or five times. Then we lost to Mountain Brook in a game where I threw four interceptions," Brakefield recalls with a laugh.
Now one of the most dominant programs in Alabama history, Brakefield is in awe of how the Thompson football program has evolved. The city's decision to break away from Shelby County and form its own school system, Brakefield says, was ground zero for all that the football program and the athletic department, in general, have achieved. "When we went to a city school system that opened up resources to help improve our football program," Brakefield says.
The Mayor also points out that no other athletic program puts in the work and dedication that Thompson athletes and coaches put in to be successful.
"I spoke to our wrestlers not too long ago recognizing their state championship, and I said 'you sit around the house at the Christmas or Thanksgiving table, and you hear some uncle or granddad talk about how hard they worked back in the day in football or wrestling,' and I said, 'Nobody works like y'all work now. It's year-round,'" says Brakefield. "I am incredibly impressed with all our kids and what they go through, but also the amount of hours that our coaches put into this," Brakefield adds. "That's led to where we are as a program."
THS Varsity Cheerleaders speak up
Just like football, at Thompson High School, cheerleading is a serious sport. The varsity cheer squad is made up of 28 cheerleaders and a manager under the direction of head coach Richard Sutton (the JV squad has an additional 18). Many of the young women have cheered since before they started school and take great pride in being the best. The cheer team cheers for the football and basketball teams and also fields a competition team. When the team attended cheer camp this summer at the University of Alabama, they won Top Banana (best overall) and had 18 cheerleaders selected as All Americans.
1) Kinley Callahan, senior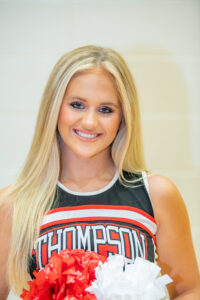 What are you most proud of and what's your best cheer memory?
Kendall and I are the first two cheerleaders to compete for all six years since the competition team started. I'm proud to have been at competition every one of those years. My best memory is being at Disney for Nationals because you get to see all of your hard work pay off and experience it all with your teammates.
Brianna McKinnon, senior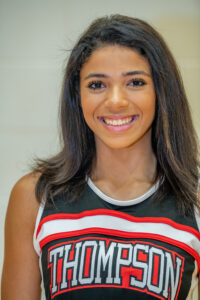 What was the best moment of last season?
The state championship game was so fun and to see the team get the three-peat was awesome!
Mackenzie Abbott, junior, co-captain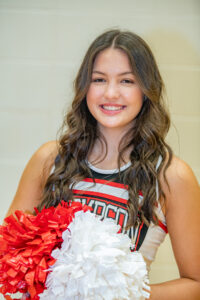 What is your favorite thing about being a THS cheerleader?
I love Friday Night Lights—the environment, the atmosphere, but I love competition season too!
Kendall Kies, senior, captain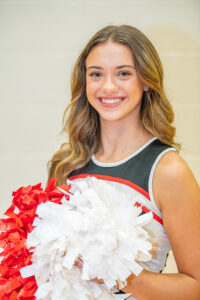 What is the best thing about being a cheerleader?
Being on the sidelines and seeing the plays happen in real time. Seeing THS score and celebrating with the team. I love at the end of the game when we all line up and sing the alma mater. Some of the players will do backflips.
Bailey Pearce, senior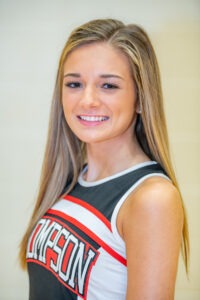 What are you most looking forward to this year?
I'm looking forward to competition season (even thought I love football season) because I get such an adrenaline rush from performing.
Avery Williamson, junior, co-captain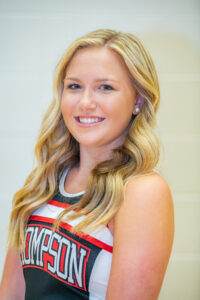 What are you most looking forward to this year?
I'm excited to see what our team has in store for us this season.
Riley-Taite Wrenn, senior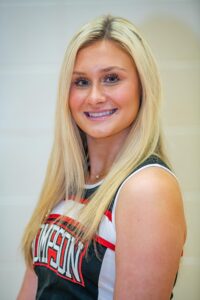 What is your favorite cheer memory?
Winning first place at our very first competition!
Mackenzie Hollingsworth, senior
What are you most looking forward to this year?
Since I've been in high school, we've won state every year, so it would be exciting to win for the fourth time my senior year and be on the sidelines to see it!