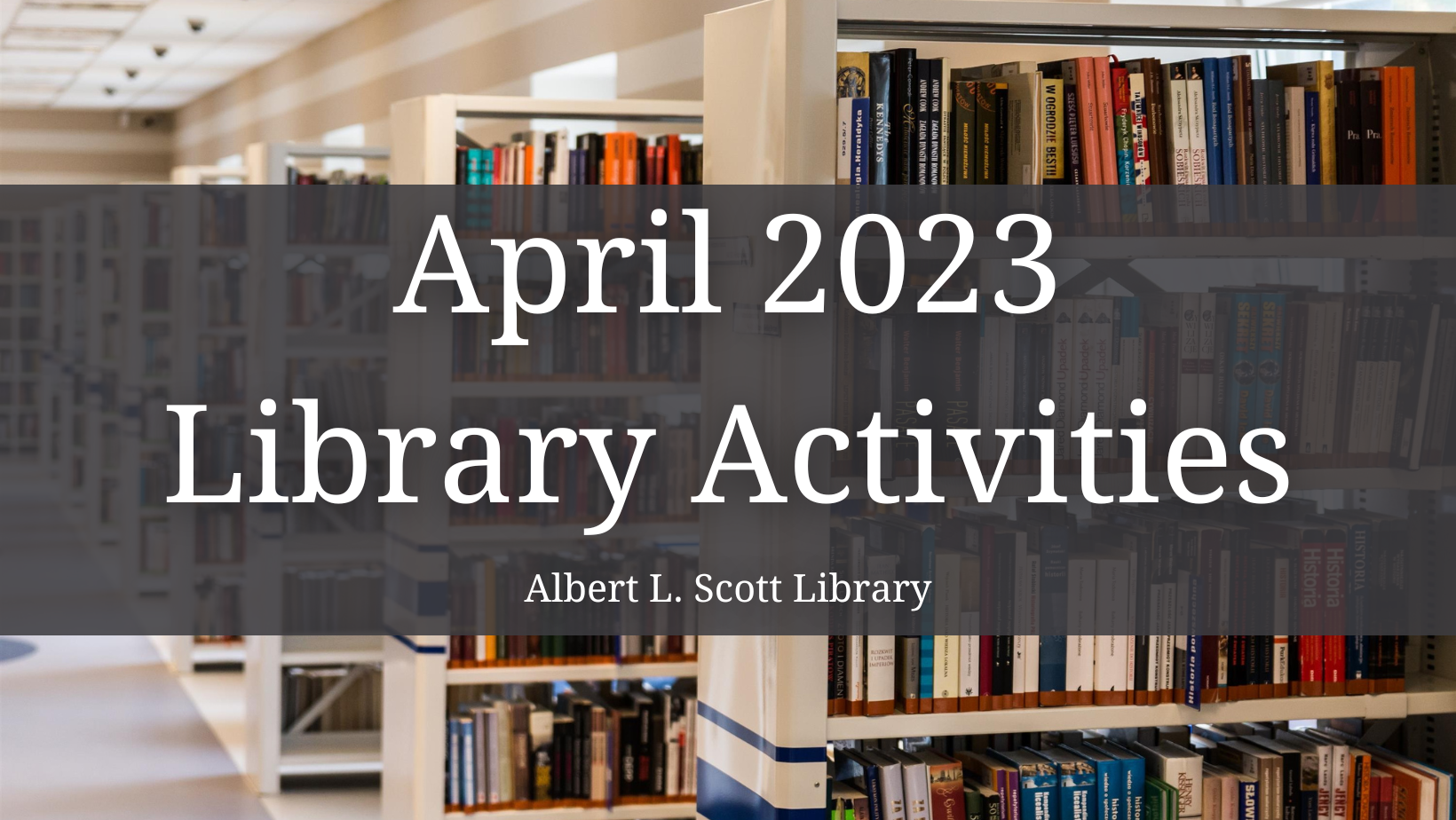 April 2023
Closed Dates – April 7 – 9. Easter
Ya Ya Yarners – April 3, 17 and 24. Monday evenings at 5:00 pm. Members share crochet and knitting talents as well as work on community service projects. This year our group will provide hats and scarves to local charities and will provide shawls to local nursing home residents. Need to brush up on your skills? Want to share your talents with other crafters? Join us for a fun-packed evening of stitching and conversation. For more information, email us at [email protected]. Program takes place in the Nan Abbott Room.
Adult Computer Classes – Call or come by to sign up. 205-664-6822.
April 5. 4 pm. Advanced Laser Cutting: Rotary Tool – Learn how to use the rotary tool on the laser cutter to etch cylindrical objects such as tumblers and glassware. PREREQUISITE: Intro to Laser Cutting.
April 10. 4 pm. Microsoft Word 2019 – Understand the basic functions and commands that are available in Word as well as formatting and editing documents. April 19. 4 pm. Introduction to 3D Printing Using Tinkercad – Learn the basics of using Tinkercad, an open source program for designing 3D objects.  We will also go over the basics of 3D printing using our Prusa printer.
Classes take place in the Nan Abbott Room.
ABC & Ds of Medicare – April 10. 1 pm. Karen Haiflich of the Medicare Information Source will help you navigate through the process of Medicare. Learn about filing, benefits, and any other questions you might have. Program takes place in the Nan Abbott Room.
Friends of the Library Meeting – April 24. 6 pm. Meeting takes place in the Nan Abbott Room.
Library Book Group – April 20. 6:30 pm. Join us to discuss Bluebird by Sharon Cameron. In the aftermath of World War II, Eva, who holds the key to a deadly secret that is capable of tipping the balance of world power, is on a mission to pursue justice and the Nazi that escaped its net. Program takes place in the Nan Abbott Room.
Medicare 101 – April 27. 6 pm. A fun and informative class to learn what to expect with Medicare and how to ask the right questions. Perfect for anyone wanting to learn about their Medicare options. Presented by a representative of Medicare Advisors of Alabama. Program takes place in the Nan Abbott Room.
Author Talk – April 30. 2 pm. Join us as local author Antonia Gavrihel gives some insight into her writing process and inspiration as she shares her two novels with us. Back to One, released in November of 2021, was recognized as a finalist in the Chick Lit category for the National Excellence in Indie Literature Award and shortlisted for the Chanticleer International Book Award. It was also named as a Distinguished Favorite in the Friendship Category in the NYC Big Book Awards.
Ambient Light, released in September of 2022, has now made the short list for the 2022 Somerset Book Awards. Refreshments will be provided by the Friends of the Albert L. Scott Library. The program will take place in the Nan Abbott Meeting Room.