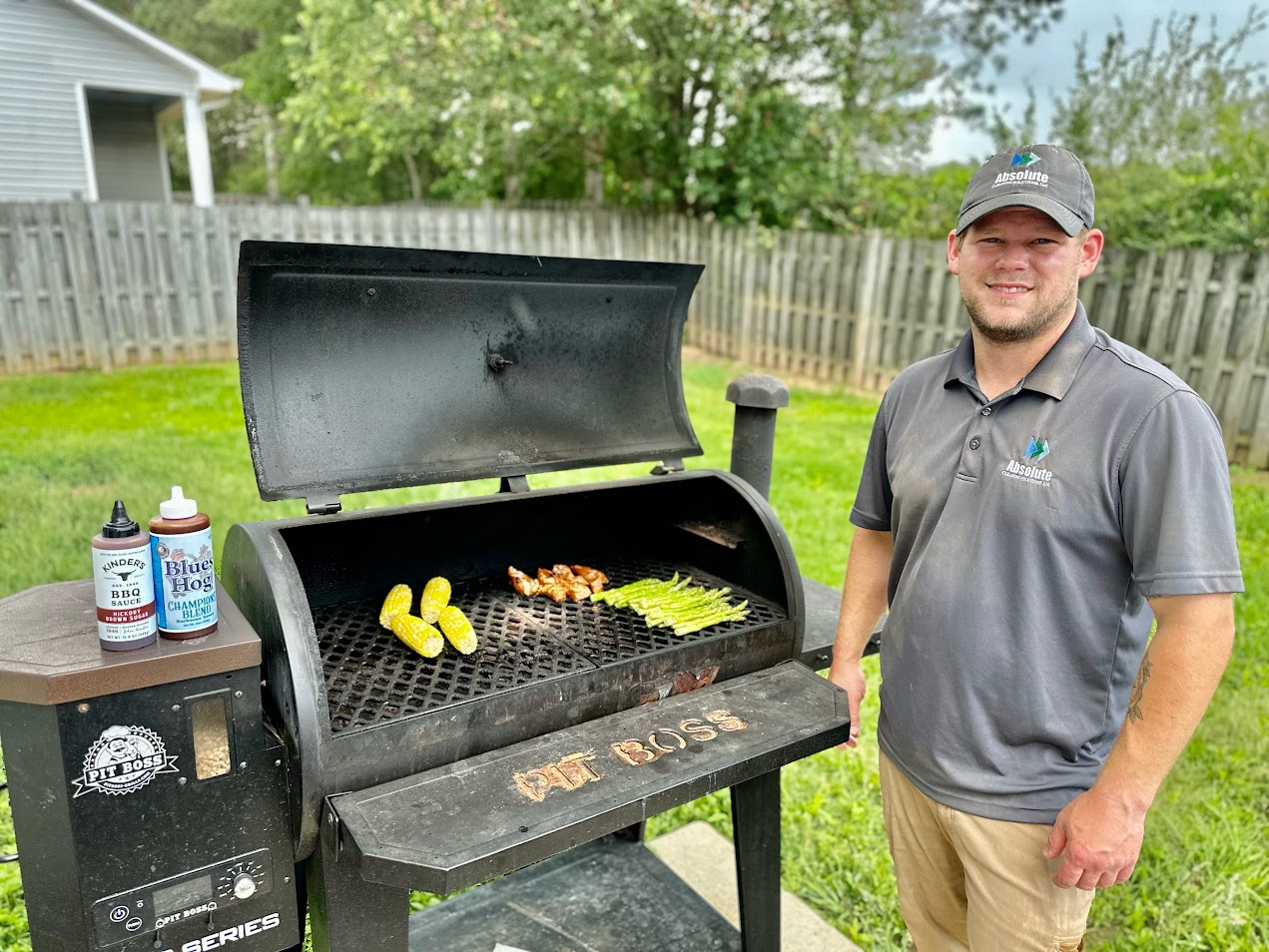 Josh Tatum was born and raised in Alabaster. He owns Absolute Cleaning Solutions, which focuses on commercial and residential gutter cleaning, pressure/soft washing homes and surfaces, and window cleaning. Josh got into this business working part time for his uncle who owns a large-scale construction/residential cleaning business in Tuscaloosa. His vision of Absolute Cleaning started in 2016 and as Josh says, "fairness, respect, reliability, and quality is what helped us grow."  Josh's fiancé, Peyton, and his three-year-old daughter Rylie live and grill near Thompson High School and Warrior Park. Josh is a gifted griller, and in celebration of summer and July 4th, we asked him to share some of his grilling tips, tricks, and passions.
Alabaster Connection: What will you do to enjoy this July 4th?
Josh: We will cook out and enjoy our family during the day, and then at night we'll head towards Red Mountain to watch the fireworks show.
What kinds of foods will you grill and serve?
My favorite item to grill has to be ribs. There are so many different flavor profiles and grilling methods. Once you find the right way you enjoy, it changes your BBQ life forever!
What all do you like to grill?
If it's edible, it's grill-able! I've tried many things over the years; burgers, ribs, pork belly, veggies, even Thanksgiving turkey. A little secret on the grill I found when reading about some new recipes to try: grilled apple pie. Probably one of the best things that can be made on a Pit Boss Smoker. (Add some vanilla ice cream, a nap, and call it a day!).
What kind of grill or grills do you use?
I use a pellet smoker, made by Pit Boss, purchased in Alabaster.
Are you a charcoal or gas guy?
Neither! Going the route of using wood provides a more natural taste and better flavors for your end results! There are many different types of wood, and each type can be paired with certain types of meats.
Do you have a grilling person online or on TV you follow?
I try not to copy or repeat things I've seen. Occasionally I do enjoy watching a good ole fashioned cowboy grilling man on YouTube, by the name of Cowboy Kent Rollins.
Any grilling tips to share?
I usually hear people struggle with meat drying out. Always keep a bottle of water or even better, juice. (Apple juice is my preference). Occasionally moist your meat while it cooks. Also creating a brine 30 minutes to two hours before you begin cooking can really make any type of meat keep its moisture and make it tender. Slow and low is key when it comes to smoking or grilling.
What is your most memorable July 4th?
When I was young, my aunt took me to the Hoover Met to see a fireworks show, and they passed out 3D glasses. It blew my mind at that age.
Would you share a ribs grilling technique?
Sure! The 3-2-1 method has yielded the best results for me. One of the most important steps is to use a knife or fingers and peel back the thin membrane on the backside of the ribs in order to make them fall off the bone and increase the ability to absorb more flavor. Give the ribs a coat of yellow mustard, followed by a generous sprinkling of your favorite rub. My recommendation is a brand called Killer Hog BBQ Rub. Set your smoker or grill to 200° to 225°, and follow the following steps:
3 hours uncovered away from direct heat
2 hours wrapped tightly in foil with apple juice
1 final hour covered in your favorite BBQ sauce to create a caramelized surface
Where do you shop for your meats?
KD's fine meats on Highway 119! I like to shop local and support our community. I've been going there for years. They even make these family packs each week (it does change weekly), and it's a fantastic deal with multiple different items.
Who taught you how to grill?
 I taught myself. I always like to say that I enjoy learning as much as possible about anything and everything. I used to do what everyone did, which is just to have a little gas or charcoal grill and cook burgers or steaks and when people would compliment my cooking it felt great. So my mind told me "let's dig deeper and make it the best I can."
How often do you grill out?
Once a week, usually. During summertime and football season, I like to have the TV outside and watch a movie or the big game and grill all day. Ribs and brisket can take many many hours, so enjoying a brew and being outdoors all day long is a treat.