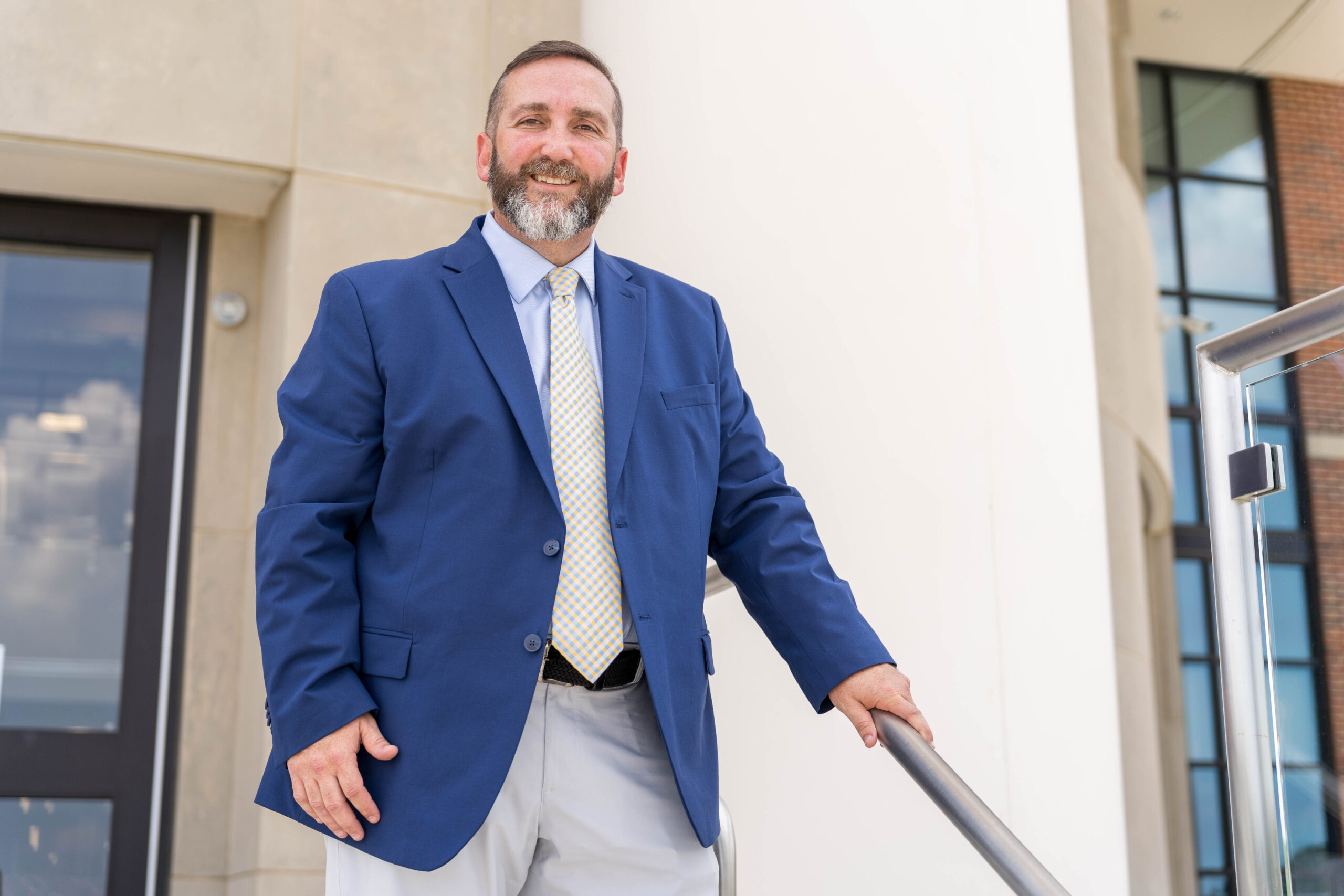 Honesty, Humility and Service
By Barry Wise Smith
Mike Lee, the new principal of Thompson High School, has developed three core beliefs that have guided him during his 16-year administrative career. "Be honest, be humble, and serve others," Lee says. "That's who I am in my life and career." Since Lee took the principal's desk on July 17th, he's been using those core beliefs as his guiding stars as he kicks off his tenure at THS. (It's clear as employees greet him with excitement and smiles in the hallway outside of his office that it's working.)
Lee grew up in Carbon Hill in Walker County, graduating from Carbon Hill High School in 1995. "I always saw myself as a teacher," he says. "I had some wonderful teachers growing up—and one in particular who was very impactful."
After graduation, Lee went to Bevill State Community College on a baseball scholarship but was injured and went to University of Alabama to finish a bachelor's degree in education in 2000. He obtained his Masters in Educational Leadership at Samford in 2007.
Lee started as a history teacher at Bottenfield Middle School where he also coached. "My principal at Bottenfield, Gary Evans, saw more in me than I saw in myself and encouraged me to consider administration," Lee recalls. He had also been inspired by his own high school principal, Bobby Frost, who "is a man of integrity and character, he showed me what an impact an administrator could have on students and teachers," Lee says.
From Bottenfield, Lee moved to Minor High School as an assistant principal in 2007. He stayed at Minor for five years until he was hired as the principal of Clay-Chalkville High School where he stayed for 10 years until 2022, when he left for Orange Beach High School where he served as principal until he was hired at Thompson.  Lee's wife of 22 years, Jana, a school counselor, will  temporarily remain in Orange Beach with their  13-year-old daughter Addison, an eighth grader and 17-year-old son Sam, who will graduate from OBHS in the spring.  Son John Michael graduated from OBHS this past May and is attending Coastal Alabama Community College.
When Lee learned that the Thompson job was open, he knew he had to pursue the opportunity. "Thompson is a destination location," Lee says. During his tenure at Clay-Chalkville, Lee became very familiar and impressed by Thompson and all the school had going on. "Thompson is one of those schools that you just don't turn down. And to work for Dr. Vickers is an honor," Lee says. "The investment this community makes in this school is just unparalleled. There is such a strong commitment to excellence here. And It's not just athletics, it's fine arts and academics, everything. There is clearly something good happening here."
While Lee realizes that there is sometimes anxiety when a new administrator comes to a school, he makes sure to allay fears: "This is not a time to come in and make big changes. As a leader, I want to evaluate everything; get to know the faculty, staff, and students; and assess where were are right now." But for long-term goals, Lee says he wants to continue to expand academics and career-tech programs. "I want to be sure we're doing all we can do adapt to the times and stay on the cutting edge so that we're giving our students the best opportunities to succeed," Lee says. "We're about every student, every day. We just want to continue trying to get better every day."
At the start of the school year, Lee along with his assistant principals and counselors, had class meetings with each grade level to introduce himself and lay out expectations. When teachers came back on August 2nd, a full faculty meeting introduced Lee to his new staff. "I'm excited about getting to know a new group of teachers," he says. "And I love being in a school with students and getting to be a part of their world."
Lee is excited to be a part of football season and all the other exciting things happening in fall at Thompson. "I'm coming in to a great school culture," Lee says. "I always want to do what's best for students. And if I hold true to those core beliefs, I will always do that."