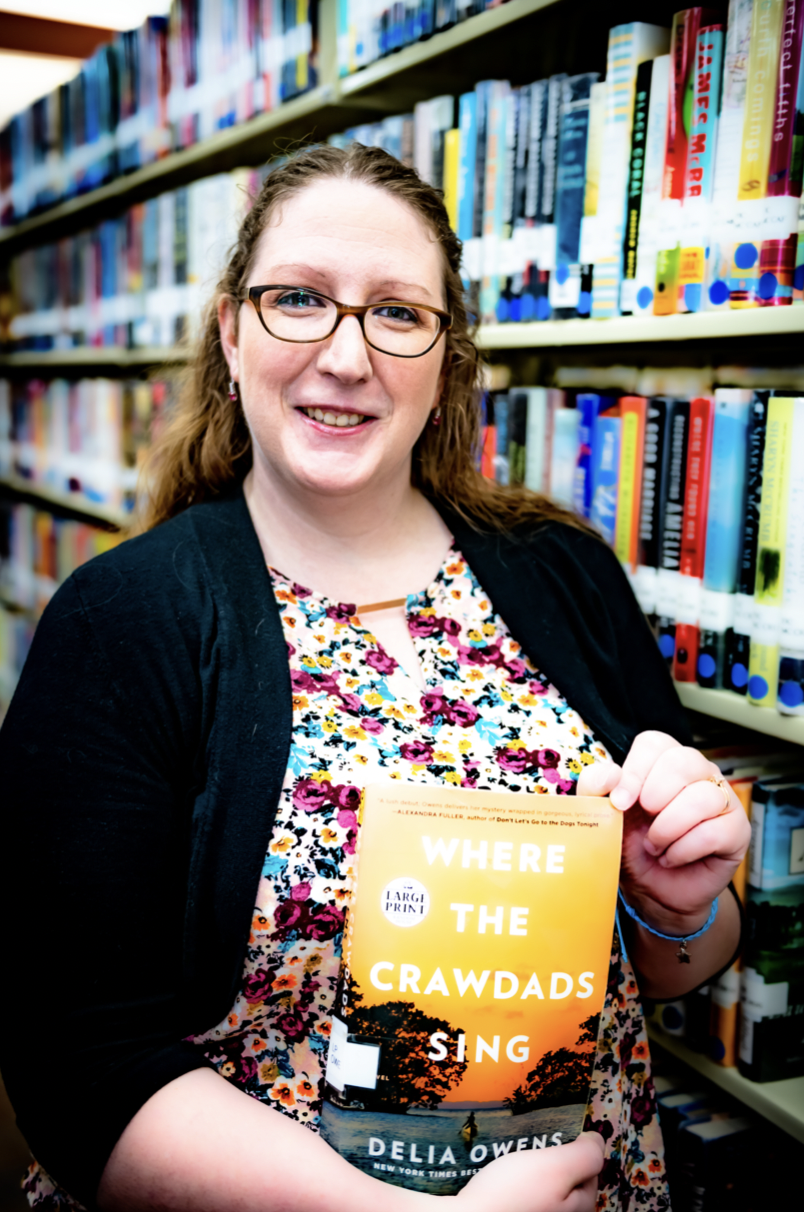 Meet Albert L. Scott Library Director Kim Roberts
Library Director Kim Roberts has a long history in Alabaster. Originally from Montgomery, Roberts moved to Shelby County in middle school and has lived in Alabaster since high school. Roberts graduated from Pelham High School, received her history degree from the University of Montevallo, and got her masters in library and information studies from the University of Alabama. "I always loved reading and learning so working in a library was a natural fit for me," Roberts says. "I worked as a page at the Pelham Public Library through high school and college and decided to get my masters."
            Prior to coming to Albert L. Scott Library, Roberts was the Reference Librarian and Assistant Director at Harrison Regional Library in Columbiana from 2007 to 2014. Roberts joined the staff at Albert L. Scott in 2018 as the Patron Services Librarian and was promoted to Director in December 2020.
After more than a year as director, Roberts has her wish list for the library. "I want the Library to be as dynamic and diverse as the community," she says. "We are currently updating our services and collections to reflect that. Our goal is to provide a balance of traditional and digital services." The library recently removed the children's computers and replaced them with loanable learning tablets called LaunchPads (see below). Shelving was added where the computers were removed to provide extra room for juvenile biography and teen fiction collections. Space in the fiction room was converted into a Makerspace complete with 3D printer, silhouette machine, and laser cutter. The physical reference collection has been scaled back, and a new database called Reference Solutions has been added.
Roberts loves seeing how residents use the library. "I love seeing how library services affect people—to see how people use knowledge available to them to better themselves," she says. "Whether that's a kid excited to hear a story during story time, a teen looking for help with college admissions, an adult applying for a job, a parent looking to help their child, or a senior coming to book group, all of these services impact not just their lives but their families and others within the community."
Roberts and her husband, David, have twin seven-year-old daughters and a four-year-old son.
Playaway LaunchPad
After removing the desktop computers from the children's area, several brand-new Playaway LaunchPad tablets—made for children ages three and older—have replaced them. The pre-loaded learning tablets don't require downloads or Wi-Fi. Alabaster parents and caregivers can check out tablets for children to use in the library or at home for up to two weeks.Each tablet is age appropriate and a multisensory learning tool that combines apps, storybooks, and videos. Topics include: early language and literacy skills, phonics, world destinations, science, art, animals, and math.
Reference Solutions
A new online marketing and business development tool called Reference Solutions by Data Axle has been added in the adult section. The link—cityofalabaster.com/library—is on the library's website on the resources page. Reference Solutions features several databases including: United States businesses, White Pages, jobs and internships, healthcare, consumer lifestyle, and homeownership. Reference Solutions is useful for people who want to start a business, conduct marketing research, and more. Reference Solutions can be accessed on home devices by logging in with a library card or by using one of the library's computers.
Save the date: Friends of the Library Spring Book Sale, April 1-3 in the Nan Abbott Room.
For a full Library event schedule, visit eventbrite.com/o/albert-l-scott-library-33067488375