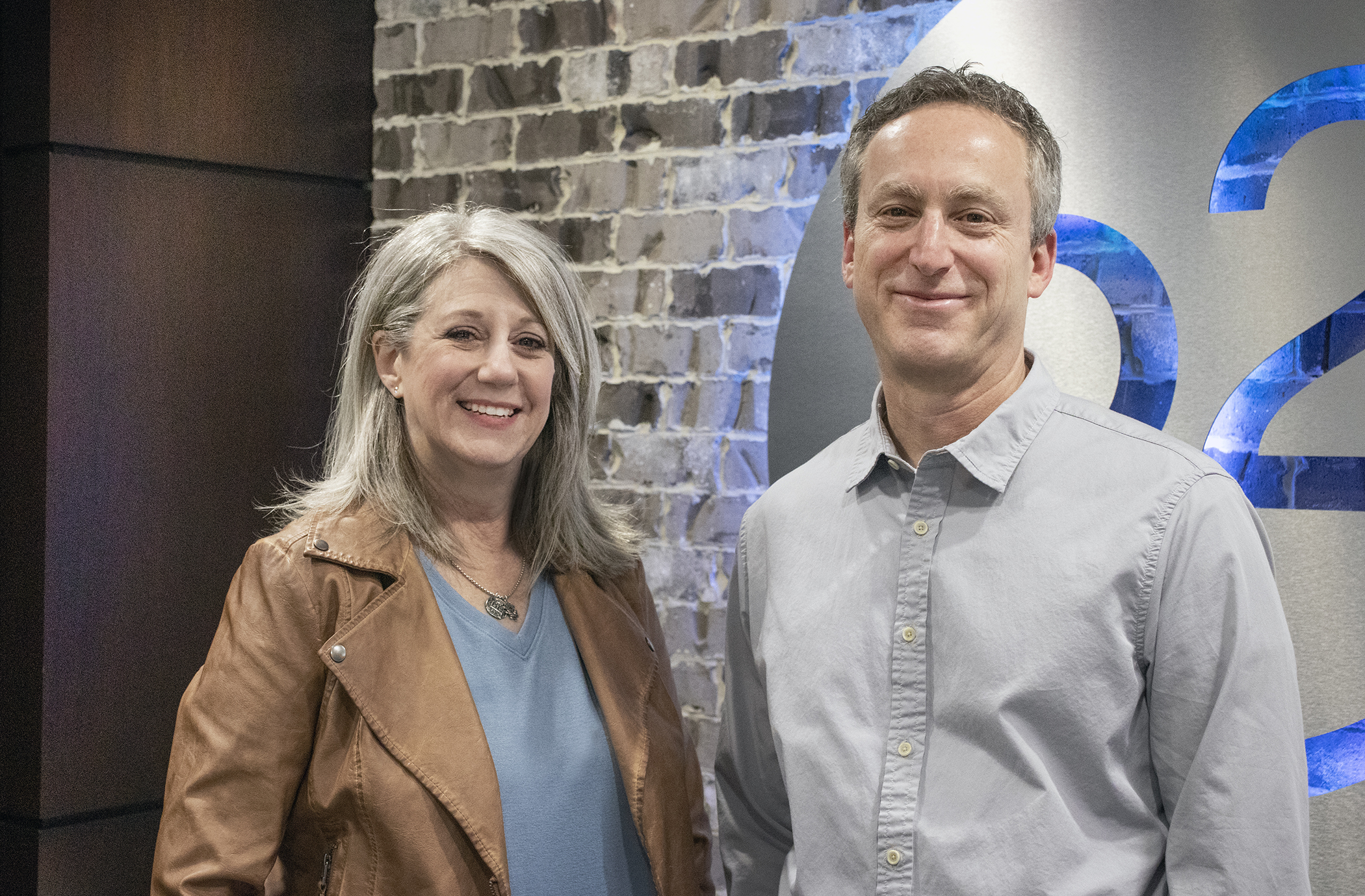 The story of how a city creates a new brand
Ellen Hutchings and Howard Pearlstein from o2 Ideas in Birmingham teamed up to create the logo and mantra for Alabaster's new look, which was unveiled in 2021 as part of the city's rebranding project. Howard led a Brand Workshop which was a randomly selected group of residents from the community who answered questions and offered their opinions and helped provide inspiration to develop the brand mantra. Ellen is the Creative Director who designed the new logo and brand incorporating the water tower. Working with a committee headed by creative director and city council member Jamie Cole, Howard and Ellen created a look that manages to be both iconic and modern. Alabaster Connection wanted to find out how a city goes about creating a new brand so we asked a few questions:
INTERVIEW WITH JAMIE COLE, CITY COUNCIL:
How did the city select the creative group to create the new brand? Walk us through that process?

Jamie Cole, City Council: We discussed it in the PR and Marketing Committee, which I chair, and includes long-time city leaders Sophie Martin and Stacy Rakestraw along with our city administrator Brian Binzer and city clerk Mark Frey. Our committee heard pitches from a few different agencies. But many of us, including me, Ms. Martin and Mayor Scott Brakefield, already had some experience with o2 Ideas, who worked on branding for our school system in Alabaster. We really enjoyed that process, and decided to award the work to them.
How did you get started in visual arts?
Jamie: I wasn't really trained as a designer… it was more of an interest and just turned into my first job in the industry. I worked my way up through the design team at Progressive Farmer magazine and was eventually managing editor there. Today I'm an agency creative director, so I was excited to work with another agency and see their process.
The water tower is obviously an important symbol in Alabaster. Was that always going to be a part of the logo?
Jamie: No, in fact, we started out NOT wanting to lean into that icon. I used it for Alabaster CityFest branding, some local businesses use it, and quite a few cities around the country use their water towers in their logos. But in working through the process, it just kept coming up…
Who was part of the process?

Jamie: We had a great cross-section of residents from all backgrounds: business folks, community leaders, city employees, church leaders, educators. We called this process the Brand Workshop.
What sort of framework did you give them?
Jamie: We really followed o2's framework, right up until we made the decision to include the water tower. From there, the only creative direction from me was to try to see this well-known and much-used icon in a new way. I think they accomplished that!
Did o2 submit more than one look?

Jamie: Oh yes… several. The first iterations did not include the water tower, though. Then we went through several that included the tower, but we didn't quite hit the uniqueness … We knew we had it when we saw the work Ellen did!
How did you go about testing out the new logo?
Jamie: It was really a quiet roll-out and is still ongoing. We wanted to do it subtly.
Alabaster City Unlimited is the tagline you all chose. How did this come about?
Jamie: Through the same brand workshop process. We had a lot of discussion around it over the weeks and months, but we knew we wanted to make our tagline about "potential." Again, there were several iterations, but we love "City Unlimited" and its wordplay on "city limits."
INTERVIEW WITH ELLEN AND HOWEARD, 21 IDEAS:

Briefly describe your backgrounds.

Howard: My entire career has been in advertising. I started out as a copywriter at Grey Advertising and joined o2 in 1997. I actually left o2 in 2001 to work for DDB in Chicago but came back to o2 in 2008. I received an English degree from the University of California, Irvine. In 2019 I started writing children's books. I have several out now, with more being published this year and next. Editor's note: Orange Porange is Howard's most recent release. It can be ordered on Amazon.
Ellen: I started working at a small ad agency after graduating from Auburn University in 1988. My entire career has been in advertising, working at both large and small agencies. I've been with o2 for 20 years and counting!
How does the creative process work for you? Are there times you work individually or are you always together in this creative process?

Howard: For us, a project starts with understanding the objectives: what's our goal, who are we trying to reach, and what do we want that person to know and do. From there, we start thinking about the most effective and creative ways to accomplish our objectives. Sometimes, Ellen and I will work together right from the start of a project. Other times we will work independently and then re-group to discuss our ideas, kill the bad ones, and refine the good ones.
Ellen: When I start a new project, I put it on my "creative autopilot." I get ideas while I'm driving, watching TV, or even working on other projects. Howard and I share our ideas, concept on additional ideas together, and then only the best ideas get developed into concepts for the client to review. We have a great creative partnership.
What kind of sources did you consult for inspiration and ideas?
Howard: For the City of Alabaster rebranding, the sources were the residents of Alabaster who participated in the Brand Workshop. Their answers to our questions and their conversations about their answers provided all the inspiration we needed to develop the brand.
Can you remember any specifics about how these ideas came together?

Howard: I took the data gathered in the Brand Workshop and organized it into what we call a Brand Evaluation, which summarizes all of the information and leads to the development of the Core Brand Values, Brand Essence, and Tagline. Before sharing this with the City of Alabaster, I shared all the information with Ellen. We then worked together to make sure that everything was accurate, creative, and as good as it could be.
Why does a logo matter?
Howard: A logo can often be the first exposure someone has to a brand. Something visually striking that people will remember. Additionally, a logo helps to maintain consistency across every element a brand creates—from ads to videos to letterhead and business cards.
Did you choose the colors or were they part of the plan?
Ellen: The colors were selected by o2. They were chosen to communicate stability and strength as well as the dynamic vision of the City of Alabaster.
Do you all envision how your logo will look on all sorts of different objects?
Howard: Yes, we definitely consider where the logo will go as we develop it. A logo has to look great on something as big as a billboard or as small as a T-shirt.
Ellen: A great logo design needs to work as well in one color as it does in multiple colors. And it should be readable when it's stitched on a golf shirt, painted on the side of a building, or reduced to its smallest possible application, like the side of a ballpoint pen.
The water tower is obviously an important symbol in Alabaster. What was your thought process in capturing the iconic water tower while meeting the challenge of making it stand out from others like it?

Ellen: We looked at several ways to work with the request to incorporate the water tower into the logo. It is an old structure, but it needed to communicate a modern, forward-thinking brand message. We wanted to make it more graphic and have a deeper symbolic meaning. The "aha" moment came when we realized that the support beams of the water tower and the roof of the tower created an arrow pointing up. This was a subtle way to reinforce the idea of "unlimited" from the tagline. Like the arrow on the FedEx logo!
Were you challenged to come up with totally different looks?
Ellen: We were fortunate that Jamie had confidence in our ability to bring them options that worked. We were allowed the freedom to solve the problem. Jamie and the City leaders were great collaborators on this project.
How did the tagline Alabaster City Unlimited come about?
Howard: Residents who participated in the Brand Workshop truly felt that Alabaster has a limitless future. With that essence in mind, we presented several tagline options. Working closely with Jamie and the team, we finalized the tagline as "City Unlimited."