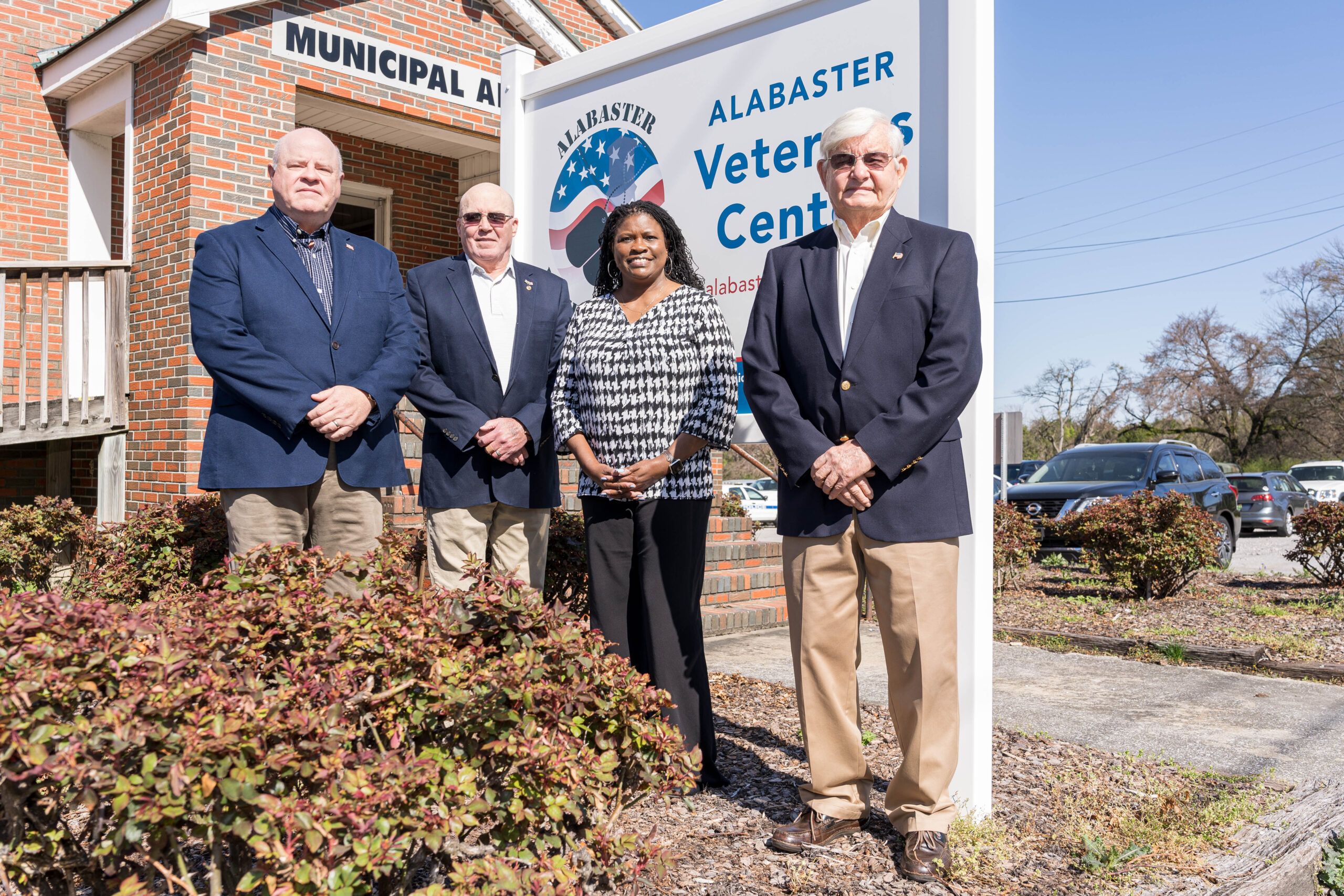 Paul Gonthier, Michael Eshenbaugh, Bridget Wright, Trenton Agee
By Paul Gonthier
It has been over a year since the Alabaster Veterans Center, Inc. (AVC)—a 501(c)(3) organization—opened its doors to begin its mission of serving as a primary hub for benefits and one-stop service center for all local U.S. military veterans. Still growing, the AVC seems to show no signs of stopping in giving assistance to over 3,500 veterans from Alabaster and many more from Shelby County.  Regardless of where they reside, veterans get help and support navigating the many resources that are available to them and their families.
 Members of Alabaster's Goodwin-Lee Post 138 American Legion founded AVC. Post 138 was chartered in 1945 and named for two local mill workers—PVT Vernon D. Goodwin and GM3C James Pat Lee—who were killed in action in World War II. Post 138 became the American Legion pillar for the city and a mainstay in the community, participating in local events and sponsoring teams in local and Legion sports. Over the course of several years, Post 138's membership declined with the passing of many of its active members. But in November 2018, Post 138 began a revitalization effort, and within a year the Post grew to almost 100 members.
In June 2020, Post 138's leadership team asked the Alabaster City Council for permission to use the vacant top floor of the Municipal Annex to hold its meetings and to create and sustain a new Veterans Center. The Council, led by then Council President (now Mayor) Scott Brakefield, overwhelmingly supported the creation of the Center. In July 2020, the Council passed a resolution granting Post 138 access to the Municipal Annex, to pursue its goals of creating a Veterans Center and serving veterans.
The group formed a board of directors, incorporated as a non-profit, and received Internal Revenue Service approval as a 501(c)(3). Post 138 secured grants from the State of Alabama through the CARES Act, which were donated to the AVC. The funds enabled the purchase of computers, audio/visual equipment, office furniture and supplies, advertising, Wi-Fi and phone service, a website, and legal fees. The Alabaster/Pelham Rotary Club also gave a grant to sustain recurring operating costs. AVC held its grand opening on May 4, 2021, and is now open on Tuesdays and Thursdays from 9 a.m. to noon.
In the past year, AVC has connected approximately 200 veterans with benefits, including medical, educational, and burial benefits. With the recent addition of a state Veterans Service Officer (VSO) at the AVC, veterans no longer need to go to Columbiana to receive assistance with their VA disability claims and other VA benefits. The state VSO will initially be working at the AVC on Tuesdays and Thursdays from 8:30 a.m. to 4:30 p.m.  Appointments can be made by calling the VSO directly (205) 669-3835. Walk-ins are also welcome.
Future goals include purchasing a bus/van to transport veterans to medical appointments and placing VA-certified service dogs with veterans.
If you are interested in joining the Alabaster Veterans Center team, we have several volunteer opportunities to make a difference in the lives of veterans. Visit alabasterveterans.org for more information.