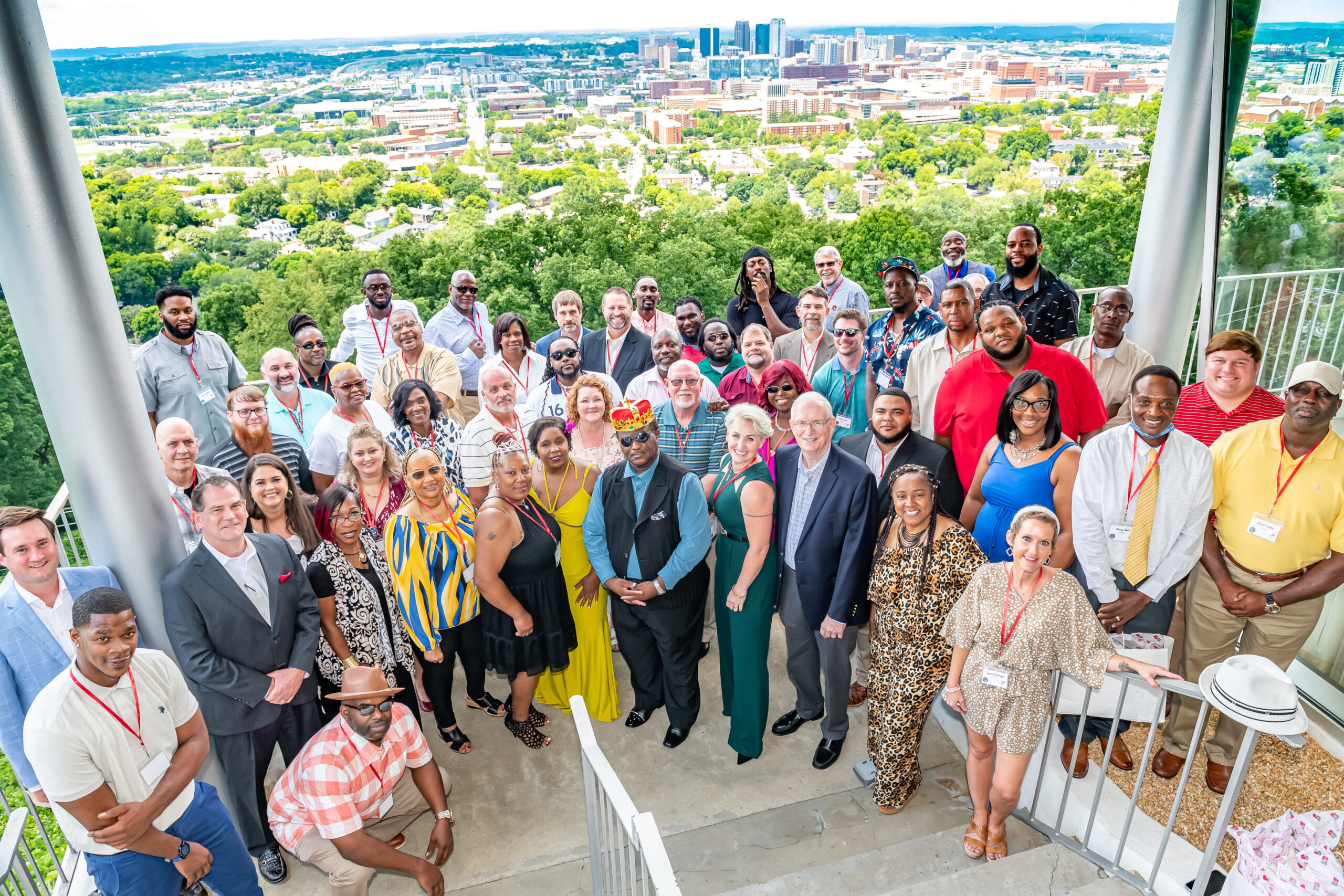 Video Visions Media Marketing (VVMM)
Video Visions Media Marketing is a full-service production company producing content for web applications, television, direct marketing, and a host of other uses. The affable company owner and CEO Phillip Pritchard is a busy man. Perhaps best known for producing all of Thompson High School's football games for the NFHS network (see our Back to School feature in this issue for more on this), he has also launched the successful Alabaster Living show along with Calera Living, Chelsea Living, Helena Living, Pelham Living, and The Weekly Warrior Preview video series.
Alabaster Connection: Phillip, give us a little background on you?
Phillip Pritchard (PP): Absolutely. I grew up in Dadeville and graduated from the University of Montevallo with a BS degree in
mass communications in 1991. I started working for a gentlemen named Butch Garrison while still at Montevallo and upon graduation, purchased the business from him. My wife, Judi and I met at UM and were married in 1991. We have two kids, both graduates of Thompson High School. Our son Brennan is a University of Alabama graduate and just completed his Doctorate of Physical Therapy from Samford University. He is working as a Physical Therapist in Homewood. Our Daughter Jillian is a graduate of Alabama and is a nurse at UAB's emergency department.
AC: What is Alabaster Living and Alabaster Living TV (ALTV) and how are they different?
PP: Over the past decade, I have had the great fortune to work with many cities throughout the state. As we continued to grow, I began to see just how special our Alabaster community is, and it was through the love of our city that the concept of Alabaster Living was born. I wanted a way to promote our community and its businesses to a wider audience. So six years ago, Alabaster Living was created as a video-based Facebook page, and we have been growing ever since. We began creating video content, spotlighting local schools, athletes, businesses, organizations, and citizens. Our Facebook page currently has over 4,000 followers. Alabaster Living Television is the same video content, but it is now available on streaming TV. If you have a ROKU or Amazon Firestick device, you can add Alabaster Living Television to your TV.  It allows you to watch all of our great content on your TV rather than a phone or computer.
AC: What sort of video stories do you present?
PP: We regularly partner with Alabaster City Schools to spotlight teachers, students, athletes, and events. We recently teamed up with Dena Bedsole to promote the Annual Alabaster Police Appreciation Dinner. We make a point to spotlight our local business partners as we depend on them for funding to support all we do in the community! We welcome the opportunity to promote non-profits and do quite of bit of content with the city including "Council Comments" each month.
AC: When can we watch this and how often do you offer new content?
PP: So, Alabaster Living Television (ALTV) is an "on-demand" channel much like Netflix. It is available 24/7 and contains categories such as "From the City," "Weekly Warrior Preview," "Veteran's Spotlight," "Alabaster City Schools," "Real Estate," Business Listings, and our newly added "Local Worship," which contains church services from all around the area. You simply choose the video you want to watch and enjoy! We add new content weekly so check back often to see what's new.
AC: Tell us about your behind the camera team?
PP: We are very much a hometown team here at Video Visions, so when I originally created Alabaster Living, I teamed up with Kim Scherer who grew up in Alabaster. She hosted the show for two seasons and then returned to her real estate career. Alabaster native Nicole Conte had already been doing some co-hosting so she was a natural fit to become our main host. She is amazing at making our video interviewees feel comfortable on-camera. I am so proud to have her as the face of Alabaster Living! Our production manager and editor is Brittani Grady. She is from Bushnell, Florida, and has been with us for four years. Our full-time sales manager, Jeff Beavers lives in Chelsea and videographer, Ken Smith lives in Calera. Our sports broadcast team, Jerry Young and Donette Logan both live here in Alabaster and are the hosts of The Weekly Warrior Preview as well as provide coverage of all THS football games.
AC: What are some of your favorite shows so far?
PP: My favorite show that we regularly produce is The Weekly Warrior Preview. It begins running weekly in August through December and bi-weekly January through May. We spotlight player and coach interviews as well as highlights and updates on all things Thompson athletics.
---
Specification Rubber Products 
Specification Rubber Products opened its doors in 1968 as a manufacturer of molded rubber components for the waterworks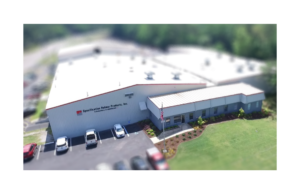 industry, specializing in rubber gaskets and sealing products. The company is a primary supplier for ductile iron pipe, valve, and hydrant producers also offering specialty mechanical molded goods for industrial applications. They provide custom molders of high-quality, close-tolerance, engineered rubber products not only for the waterworks industry but any industries that use gaskets when installing iron or any other material pipes. With just under 100 employees, the manufacturing facility is proudly located in Alabaster at 1568 1st Street North.
Alabaster Connection: Tell us about the leadership team?
Specification Rubber Products (SPC):  Steven A. Smith has been the President of Specification Rubber Products since 2008. Prior to becoming President, he was the Manufacturing Manager from 2000 to 2008. Overall, he has over 30 years of rubber experience.
AC: What sort of skills and requirements does it take to work for SPC?
SRP:  We offer roles within our company that range from unskilled labor to highly skilled engineers and technically savvy chemists.
AC: Are you hiring?
SRP: Yes we are!!
AC: What is your outlook on business and the economy in the next two years?
SRP: We have a robust growth model with new business coming online in late 2022, which will add 20 percent to our annual revenue.
AC: SRP was voted the best place to work in Alabama and given an award by the Governor last spring. How many companies competed in this and what was the criteria?
SRP: There were companies from all sorts of sectors that applied for this award. Winning the prestigious "Best Place to Work Award" means so much to this company, the culture, and the employees.
AC: What makes Alabaster a good place to run a business?
SRP: Alabaster has always welcomed us with open arms. The leadership within the city has a great working relationship with our company.  And Alabaster produces a motivated and skilled workforce that we can use as a hiring pool.
AC: Does a good portion of your workforce come from Alabaster?
SRP: Yes and the Shelby County area. Roughly 90 percent of the employees are based in the Central Shelby County area.
AC: Do you plan to grow or expand in the future?
SRP: Our goal is to be ever expanding and growing. We have a team that is dedicated to finding new sectors within the rubber industry. The outlook is very strong.
AC: What are some challenges that you face today?
SRP: Like everyone else in business, inflation has been a difficult issue over the last 18 months. The company has seen continued rising raw material costs to manufacture its products. As a manufacturer, it is a challenge to keep costs down to help increase margins and the inflationary period that everyone is experiencing has added an extra layer of difficulty to the puzzle.
AC: What sort of values do you instill in your team?
SRP: We want each teammate to understand the importance of what they do. Everyone must work together in any manufacturing environment to achieve success and there is no difference for this company. The goal is for each individual to feel their importance as an asset and together achieve greater asset utilization.