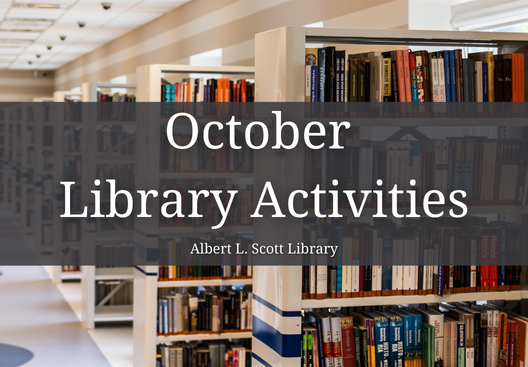 Join the Albert L. Scott Library this October for the following events! 
Ya Ya Yarners – October 3, 17 & 24. Monday evenings at 5:00 pm. Members share crochet and knitting talents as well as work on community service projects. This year our group will provide hats and scarves to local charities and will provide shawls to local nursing home residents. Need to brush up on your skills? Want to share your talents with other crafters? Join us for a fun-packed evening of stitching and conversation. For more information, email us at [email protected]. Program takes place in the Nan Abbott Room.
ABC & Ds of Medicare – October 10. 1 pm. Karen Haiflich of the Medicare Information Source will help you navigate through the process of Medicare. Learn about filing, benefits, and any other questions you might have. Program takes place in the Nan Abbott Room.
Friends of the Library Meeting – October 10. 6 pm. Meeting takes place in the Nan Abbott Room.
Library Book Group – October 20. 6:30 pm. Join us to discuss The Lincoln Highway by Amor Towles. In June of 1954, 18-year-old Emmett Watson, released after serving 15 months for involuntary manslaughter, discovers that two friends from the work farm have hidden themselves in the trunk of the warden's car and have hatched a different plan for Emmett's future. Program takes place in the Nan Abbott Room.
Medicare 101 – October 27. 6 pm. A fun and informative class to learn what to expect with Medicare and how to ask the right questions. Perfect for anyone wanting to learn about their Medicare options. Presented by a representative of Medicare Advisors of Alabama. Program takes place in the Nan Abbott Room.
Adult Computer Classes:
October 5. 4 pm: Basic Computer Skills – This class is designed for beginners. Introduces students to starting the computer, navigating the desktop, and file management.
October 19. 4 pm: Introduction to Ancestry.com Library Edition – Learn how to discover your family tree using Ancestry.com library edition. We will go over the basics of Ancestry and show you some other great Genealogy sources.
October 25. 4 pm: Microsoft Word 2019 – Understand the basic functions and commands that are available in Word as well as formatting and editing documents.
Classes take place in the Nan Abbott Room. Registration is required. To register, call 205-664-6822.