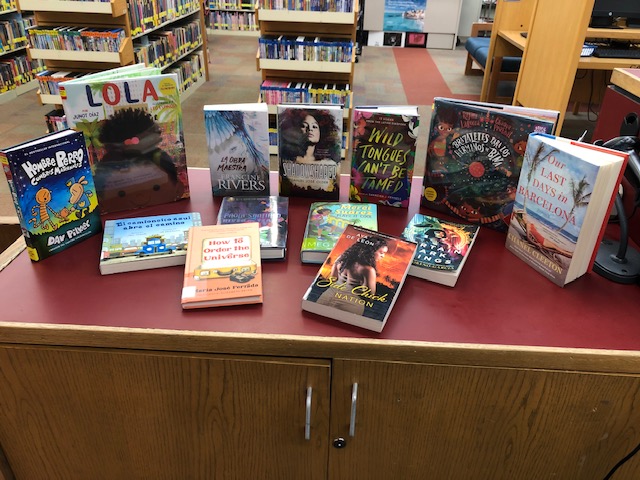 Late last summer, the City Council approved the creation of a Youth Services Library Assistant position, which allowed the library
to hire Karen Powell from the North Shelby Library in November. Powell is now the storyteller for both outreach story time at local daycare centers and preschools as well as story time at the library. She works in tandem with Frances Smith, the Youth Services Librarian, to plan, promote, and execute many children's programs in addition to story time. Powell loves working with young children and introducing them to the world of reading. She's enthusiastic and brings lots of new ideas to the community. As she says, "I'm very excited to help the library grow its children's programming."
With the addition of Powell's position, the library is taking the opportunity to reimagine the story time schedule, structure, and concepts. Toddler Tales, previously offered on Friday mornings, has been split into two different story times: Teeny Tiny Time at 10 a.m. and Small Fry Friday at 10:45 a.m. Teeny Tiny Time is for ages 0-2 and will incorporate stories with soft music, finger play, and puppets allowing little ones to sit, sing, wiggle, and waggle for 20 minutes. Small Fry Fridays is for preschool ages 3-5 and consists of books, games, energetic songs, creative activities, and simple science providing 30 minutes to read, play, learn, and create.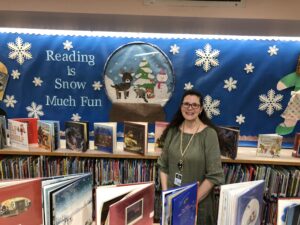 The Library is offering several other new program series—PJ Story Time, Science Saturdays, and Drama Club. PJ Story Time is geared toward families and happens every second Thursday night of the month at 6:15 p.m. Kids are encouraged to wear their pjs and bring their favorite blanket or stuffed animal for this special evening story time. Science Saturdays are every second Saturday morning of the month at 10:30 a.m. where kids 6-11 can share a science-inspired story or learn about a scientist and then conduct an experiment or activity.
Rhoda Trimble will continue to offer Sensory Friends, every second and fourth Wednesday of the month at 3:30 p.m. Squirming, speaking, and snickering are welcomed at our story time for families with special needs. The senses will be engaged through music, stories, and movement. This inclusive story session is developed for children through young adult with autism, sensory processing, or other developmental needs presented on a preschool level.
Buggin' Out
The library is buggin' out!. Come in during Spring Break week, check out books, and play buggy games for prizes. There will also be a special Spring Break story time on Wednesday, March 29, at 10:15.
Welcome Hispanic Families! Looking for more reading material? Here it is.
The Albert L. Scott Library invites Hispanic families to see the wonders the library holds. The library has greatly expanded its Spanish and bilingual book collections, including Spanish board games, picture books, and adult books. New books of Latino interest and Hispanic authors have also been added in English to the general collection. Titles are available for free at the library and digitally through Libby and Hoopla apps. Don't have a card? No problem—card applications are available in Spanish. A card is free and easy to get, and the whole family can get one. All that's needed is a picture ID and proof of Shelby County home residence. This project is made possible by Library Services and Technology Act (LSTA) funds granted to the Albert L. Scott Library provided through the Alabama Public Library Service (APLS) by the Institute of Museum and Library Services  (IMLS).
¡Bienvenidas, familias Hispanas! ¿Buscando más material de lectura? Aquí lo tienen.
La Biblioteca Albert L. Scott en Alabaster quiere invitarles a ver las maravillas que la biblioteca tiene para Uds. La Albert L. Scott ha ampliado su colección bilingüe y en español. Hay títulos en español, desde libros de cartón y libros ilustrados hasta libros para adultos. También se han añadido libros de interés para la Comunidad Latina y autores Hispanos en inglés a la colección general. Los títulos están disponibles de manera gratuita en la biblioteca y de manera digital a través de las apps Libby y Hoopla.
¿No tiene su tarjeta? Sin problema – tenemos la solicitud para la tarjeta en español. Es fácil y gratuito y toda la familia puede tener una. Lo único que necesita es un ID con fotografía y prueba de su residencia en el Condado de Shelby.
¡Venga hoy a la Biblioteca Albert L. Scott y vea lo que tenemos que ofrecerles! La Biblioteca está en 100 Ninth Street NW, junto a la First Avenue West / CR 44 en la esquina en frente del Local de los Bomberos
Este proyecto es posible gracias a la Ley de Servicios Bibliotecarios y Tecnologías (LSTA, por sus siglas en inglés), cuyos fondos han sido concedidos a la Biblioteca Albert L. Scott a través de los Servicios de Bibliotecas Públicas de Alabama (APLS, por sus siglas en inglés) del Instituto de Servicios de Museos y Bibliotecas (IMLS, por sus siglas en inglés).
GRANT
Thanks to the library staff, The Albert L. Scott library was awarded a $15,000 competitive Library Services and Technology Act (LSTA) grant funded by the Institute of Museum and Library Services. The
state library and City Council generously provided a 25 percent match for this grant award. The grant is being used to update and expand Spanish collections and further diversify its general collection for both physical and digital items. To date, the library has added nearly 400 digital items and over 300 physical items to its collections, many in Spanish or bilingual. The plan is to continually update and grow this collection over time. The library will also begin offering a library card registration form and basic library information in Spanish as well.
Meet Karen Powell
How did you get into working for libraries?
I was a library aide in elementary school and loved assisting fellow students find the books they wanted to read.
How do you get young people excited about reading? 
Make going to the library a special treat. Suggest books on topics that interest them. Suggest they start a book title that has a series. Be an example; let your kids see you read.
When telling stories to children do you recommend acting them out?
Definitely. Acting out a story gives children a deeper connection, and they are more likely to engage if you capture their attention being animated.
How would you recommend setting up a time to read to your children, and how long should you read?
Start forming habits early. Read to babies in the morning before the day gets hectic or at bedtime when things are settling down. It doesn't have to be a long story; quick stories work great for young children who have short attention spans.
Do you recommend books over e-books for young people?
I would recommend books over e-book especially for younger children (birth to 5). Young children learn through touch, and a physical book gives them the opportunity to explore with their caregivers, thus learning problem solving skills, communication skills, and social skills. As for older children. the library offers many great e-books that can be checked out through the library's Libby and Hoopla App.
What was one of your favorite books to read as a child?
Charlotte's Web by E.B. White.
Why should young people read?
Reading increases vocabulary, critical and creative thinking, and also it's a good way to escape and destress. 
Can you give us an example of a youth program coming up that you are excited about?
I'm excited about Science Saturdays. We are going to have lots of fun learning STEM concepts through hands-on experiments.
Lace up your sneakers, and don your best Irish attire to participate in our Shamrock Family Fun Run (just under 3k) at Veterans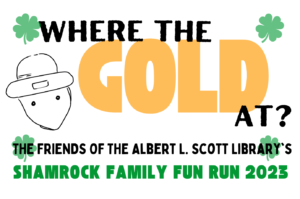 Park. This is a fun run or walk—not a race—that will have lots of cool stops along the way including color blasts, snacks, and games. Run check in begins at 8:30 a.m., and the run starts at 9 a.m.
Registration is online at the Friends facebook page. Individuals may register for a $25 fee, families of six or less for $40, and teams of six or more for $100. Please make payments to the Friends of the Library; fee may be paid via Paypal invoicing or with cash/check at the library. T-shirts will be given to each registrant. The run is to benefit the Library Building Fund. Your contributions will help us fill our new library with innovative elements that will enhance and elevate our service to the community.