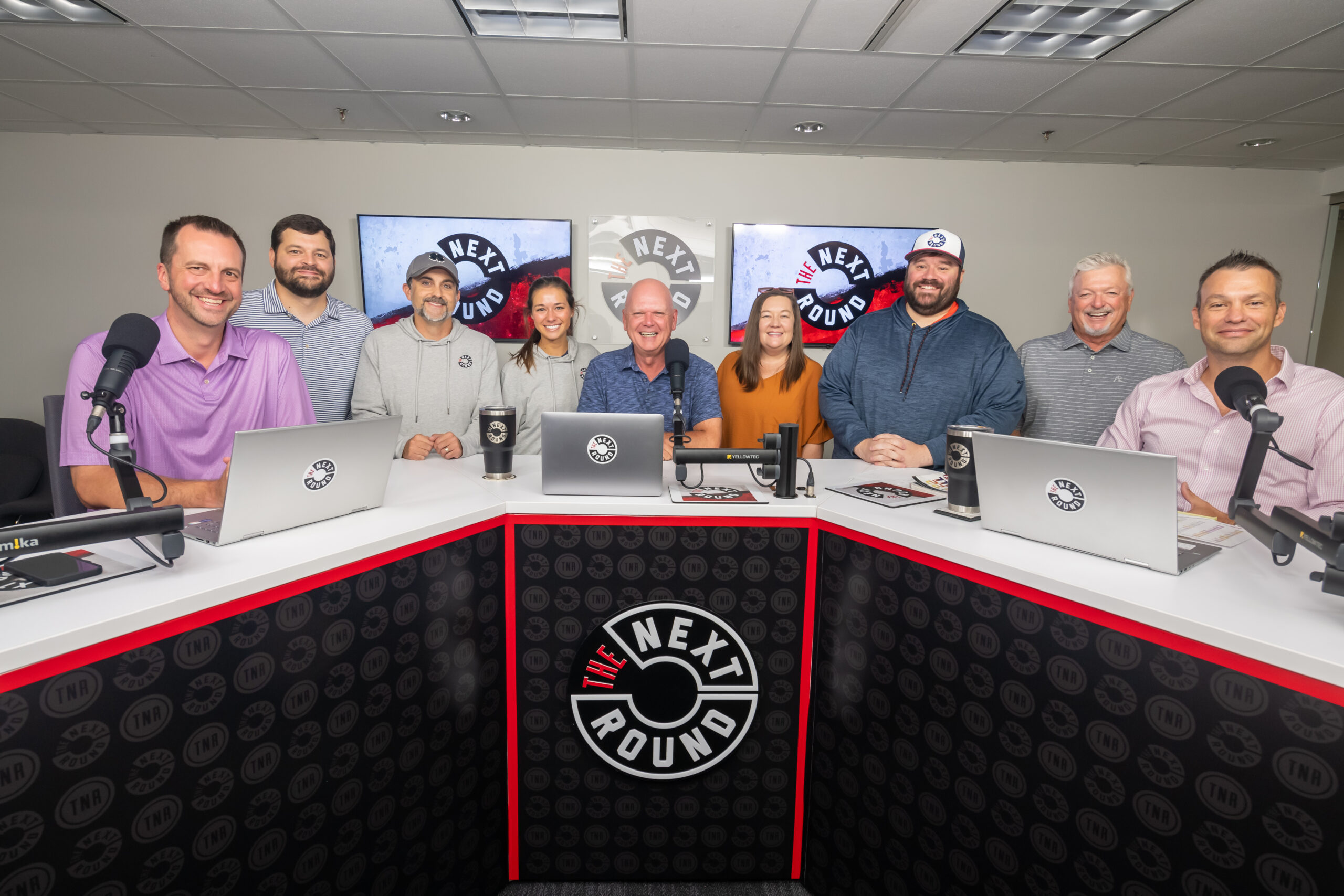 By Brent Thompson
Photos by Brit Huckabay and courtesy of Doubledown Media
Internet radio, satellite radio, podcasts, phone apps, streaming, and YouTube—all terms that consumers hear on a regular basis. The bottom line? Listeners have a wealth of options when it comes to accessing media content these days. Jim Dunaway, Ryan Brown, Lance Taylor, and Sean "Rockstar" Heninger—mainstays of Birmingham's sports talk radio—have tossed their hat into the digital and online media world after many years of broadcasting on 94.5 Jox FM. In August 2021, the group formed The Next Round (nextroundlive.com),a nod to its previous show titled Roundtable. And from that moment over a year ago, the show has been an unmitigated success. People love it. The guys know their stuff. They put the time and energy into their shows. They have a great sense of humor. They are self-deprecating and honest about themselves and others. And they deploy all the technology tools.
"Our journey in radio led us to this moment," Taylor says, speaking alongside his co-hosts in The Next Round studio. "We came together during the pandemic, and we tried to form this idea of us doing our own thing. We always talked about equity and autonomy, and so we went this direction. It was still an unknown, even 54 weeks ago." No longer.
 "I think everyone dreams of owning your own company, especially if you've ever worked in local radio or TV," Dunaway adds. "We wanted to leave corporate America behind, and it was a dream-come-true for us all."
Keeping the show and its broadcast team in Birmingham was also a top priority.
"We're Alabama guys," Brown offers. "Lance is from Homewood, Jim's from Alabaster, I grew up in Anniston, and Rockstar is from Vestavia. Everybody here has Alabama roots. In fact, in our build-out, we used local companies. Not everything can be bought locally, but the glass and furniture came from Birmingham companies. Everything we could do, we did local. Local has always supported us, so it was important for us to try and support local as much as we possibly could."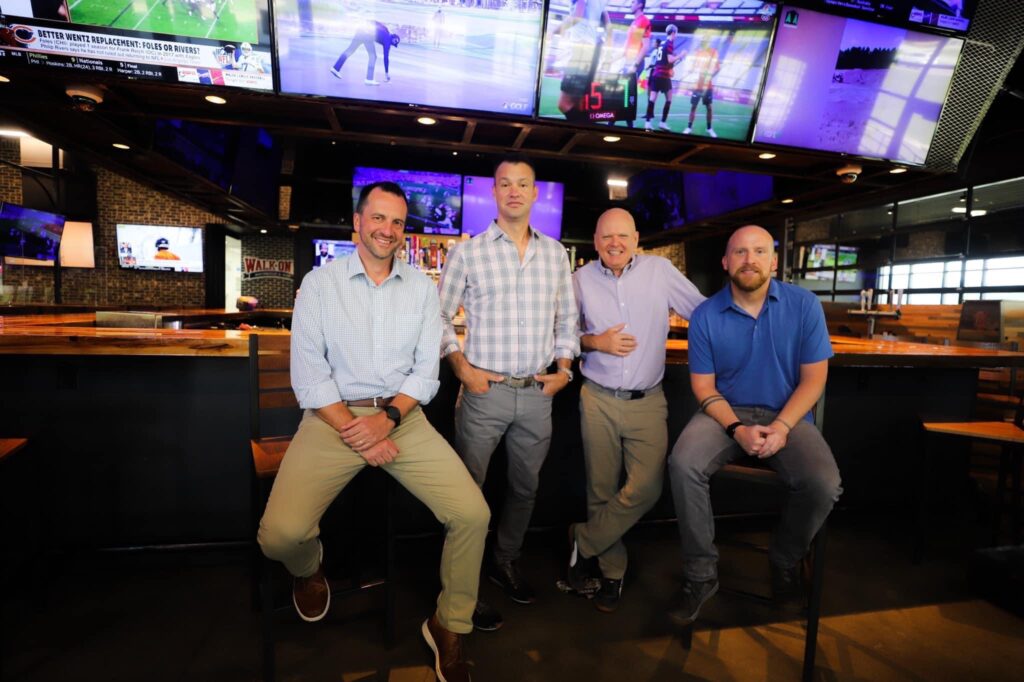 After many years on Jox's airwaves, was the station surprised to learn of the group's new career direction? "We told them on May 24 that we were leaving, and they wanted to negotiate some sort of partnership, but it never worked out," Brown recalls. "They were really surprised—we never really gave them any indication that we were unhappy, and truly we weren't."
Dunaway recalls a specific moment that fueled his decision to start anew. "I can remember the day I wanted to do it," he says. "It was during the pandemic, and we got told 'No' about something at our old place—a corporate decision. I told my wife that night, 'I've never thought about leaving this job until now, but we need to think about doing something else.'
"We were offered three-year contracts, and we were fixtures at the station, and they didn't think there was anywhere we would go," Taylor adds. "We couldn't go to another terrestrial radio station, so they were surprised that we created our own platform."
But Brown makes it clear: the formation of The Next Round was more about seeking a new opportunity than leaving a bad situation. "When you see something like this happen, it's typically due to a fallout with management or being clearly unhappy about something. That wasn't the case with us. We weren't running from them—we were running to what we're doing here."
So what was it like to expand your role from broadcaster to business owner?
"It was so much fun decorating and deciding what the building was going to look like," Dunaway recalls. "We had a price set aside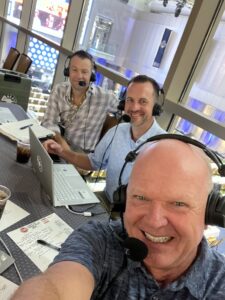 of what we wanted to spend and—being three guys who'd never done a build-out—the pricing was higher than we thought it would be. The equipment ended up being lower, so our budget equaled out. The pricing of everything surprised me. I've been in the TV industry most of my life, and someone else had paid for everything, so I didn't know what anything cost. I thought all the technical stuff would be the most expensive and, go figure, it ends up being the furniture."
"Dunaway and I both love playing golf, and I was playing four or five times a week," Brown says. "People say, 'Now that you own your business, I bet you're playing more golf,' and yet I'm playing less than I've ever played. There's always something to do."
Though Taylor shared the excitement of his partners, he was unnerved by the thought of leaving a traditional radio format. "These guys know I'm technically challenged," he admits. "So going from selling old-school radio to selling digital numbers and platforms was an unknown for me. The great thing is our relationships with incredible clients, so that's what I had faith in—faith that we were putting this team together."
Once you physically move into a studio, the real challenge begins—informing listeners where to find you. The Next Round airs live on weekdays from 9 a.m. to 1 p.m. To date, the show has garnered thousands of listeners in all 50 states and 68 countries through Spotify, Apple, YouTube, and other platforms including nextroundlive.com.
"That was the issue in starting—how to let people know where we're going," Brown says. "Social media was very important to us, obviously. We do mostly word-of-mouth, and our numbers grow every day. We engage our readers on Twitter, and they make the show better. We help people download the app all the time. In this model, we want people to be able to hear the show anytime, anywhere. We want to be on any possible platform that makes sense. We are the exact same principle as Netflix and Hulu—you've got to take another step to find us. So we want to make it as easy to access as possible."
Dunaway adds: "They can consume us at any time—on the drive home, exercising in the middle of the day, or late at night. It's great for our sponsors, too."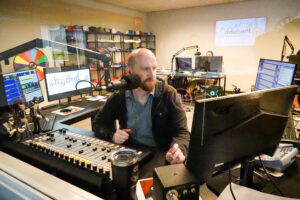 But the team is anything but complacent about its success to this point. Other show concepts are in the works and, unlike the old days, no corporate approval is needed. "It's still a process, and we want to continue to take this to another level," Taylor explains. "We're recently introduced a specialty show called The Next Round Cocktail Hour with Brittany Wagner and Kelly Hunter as co-hosts, for example."
"That's why we're called Doubledown Media—we're more than just The Next Round. We want to be a whole media company at some point with other shows," Dunaway says.
Though The Next Round doesn't require a physical studio setting, the synergy of sitting side-by-side remains a key component of its broadcast. "That was important," Taylor offers. "During the pandemic, we did 377 days out of the studio because corporate wouldn't let us come into the studio together. A big part of this is having our own facility, because we're really proud of this. We invite as many people as we possibly can here. Bud Light is one of our sponsors, and they put in draft beer taps. Redmont Vodka is another sponsor. We love to entertain in our studio. We've got tenants, guests, and clients who visit often. It's an open-door policy, and we really mean it. We love Birmingham, and we love the community."
Remembering Alabaster: A quick chat with Jim Dunaway
What was it like growing up in Alabaster?
I was born in the area that used to be called Keystone, on Highway 31 right on what is now the Alabaster/Pelham line. I was actually born at home about a mile from then Shelby Memorial Hospital. After age 7, we lived on Smokey Road, down off 119 toward The Shelby County Airport. I loved it. We didn't have a lot of money, but my parents were involved with the local little league park, even when I was a baby. That allowed me to make a lot of friends, and see my parents do something they loved. Those friends allowed me to blend in with a popular group of kids. They allowed me in their friend group even if I was from the other side of the tracks. We stayed friends from first grade thru graduation at Thompson.
What did your dad do for a living?
Dad always had a variety of jobs…a hard-working man who worked his whole life to make my Mom, me and my brother happy.
Tell us about Mayor Brakefield's dad, Jack?
Jack Brakefield and I would umpire little league games together. I can't remember how many summers we did it, but it seems like we did it forever. A ton of laughs.
How about Mike Kent?
Mike Kent was sorta the guy I thought of as the whole package. Nice, funny, good businessman, husband, and father. Mike was also friends with Charlie Parker and my high school baseball Coach Billy Woodham. Billy changed my life. He busted my chops and taught me what a work ethic really looked like. It is the one trait that has helped me most in my career.
What do you remember about your school years?
My favorite memory of elementary was Mr. Little who started a school newspaper, rare for an elementary school back then. I got to write a sports column.
Who else stands out?
Martha Wall, my 9th-grade English teacher. We talked sports all the time.
Did you play Sports?
Yes I did. I played third base and center field on the THS baseball team.
You announced little league games in Alabaster? So you knew that early what you wanted to do for a living?
I did know. I was 11. We didn't have a ton of money and I noticed that Keith Jackson and other sportscasters got paid to be at the games. It's all I ever wanted to do. I started announcing for 25 cents a game and all the concession stand food I could eat. Maybe my best contract ever.
You went to Montevallo? Was that a good experience?
I loved Montevallo. Five and half of the best years of my life. I tried to play baseball but wasn't good enough for that level, so I started my broadcasting career a little early.I was the play-by-play announcer for women's basketball and other men's sports.
Note: Jim was inducted into the Montevallo Sports Hall of Fame this year as a Broadcaster.
nextroundlive.com
Apple App Store: TNR
Spotify: The Next Round
Twitter: @NextRoundLive