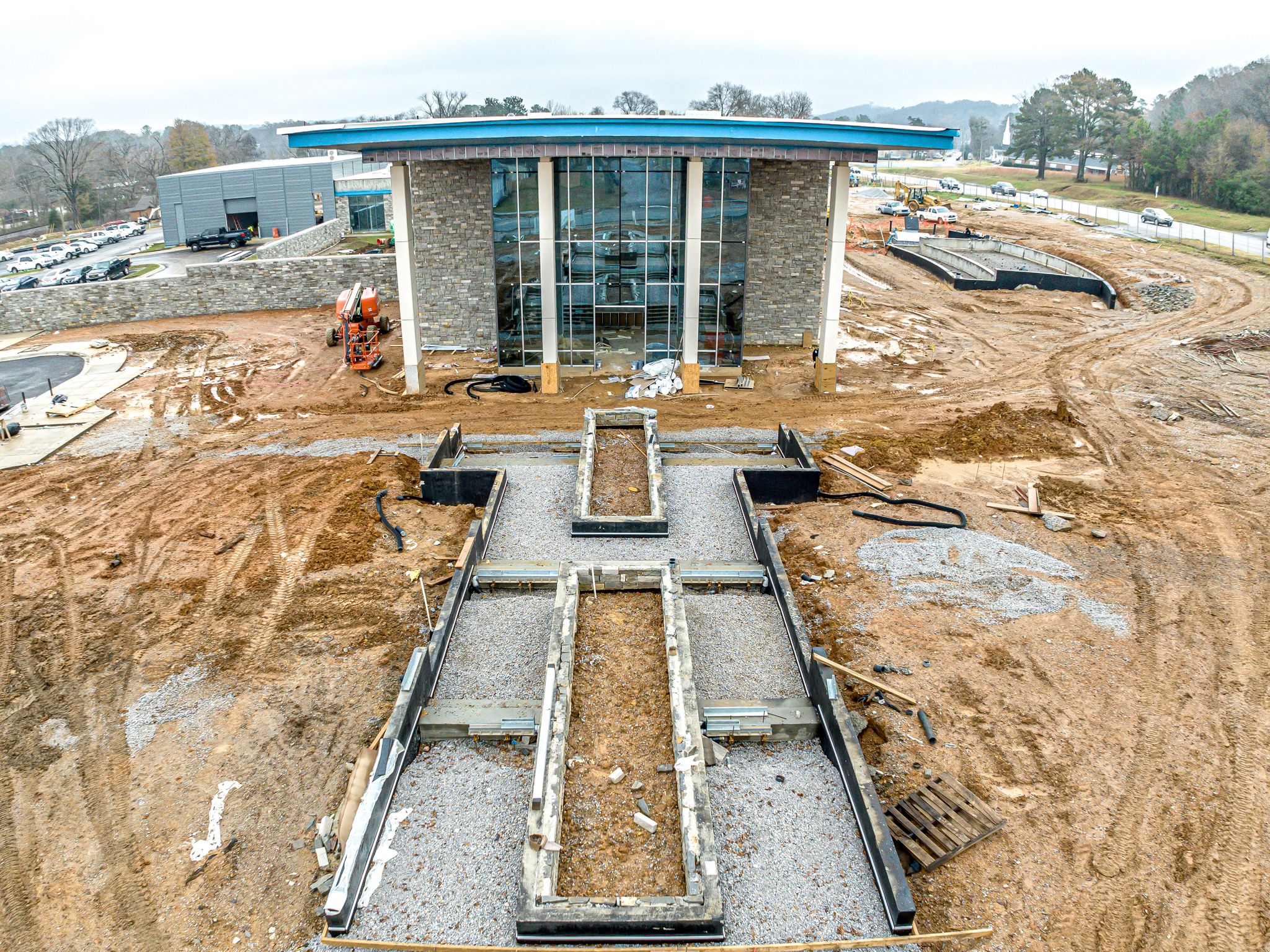 By Barry Wise Smith
Photos by Brit Huckabay
Alabaster Police Chief Curtis Rigney can barely contain his excitement as he guides a tour of the new $16-million state-of-the-art police headquarters under constructions at the entrance of the municipal complex in Alabaster. As he walks—hardhat securely in place—he points out various spaces and amenities he's dreamed of for the majority of his career.
A 32-year veteran of the Alabaster Police Department, Chief Rigney recalls being sworn in by the then chief and being told that they were working on a new building. Thirty-two years later, Chief Rigney is seeing the promise finally fulfilled. "We are so appreciative of the Mayor and the City Council—and the citizens of Alabaster—for building this for the city," Rigney says. Mayor Scott Brakefield says, "Public safety is an important pillar of any vibrant community. Over the past few years, the City has made substantial investments for our public safety departments. This is just another step in the direction of ensuring our community remains a safe environment for our citizens."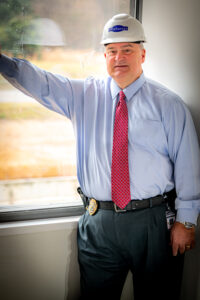 Prior to completion of the new city hall complex in 2014, APD occupied the lower floor of the old city hall building that was built in 1953. After municipal employees moved into the new city hall, APD took over the whole building, but space was still at a premium. "When I want to have a meeting with my full command staff, we have to go over to City Hall to fit everyone," Rigney says.
In the new 34,000-square-foot facility, space will not be a problem. The department's 90 employees—73 sworn officers and civilian personnel—will fit comfortably under one roof with plenty of room for future growth. "We designed this building to accommodate future expansion because Alabaster continues to grow," Rigney says.
The Williams Blackstock designed building is being constructed by Argo Construction and will feature a number of secure amenities that will guarantee citizen—and officer—safety. Features include a fenced parking lot for employees; a secure sally port and processing area with holding rooms; women's and men's locker rooms; a full gym with free weights, universal machines, and much more; a roll-call room with stadium seating, room for 30 to 40 people, and the latest technology. "It's truly plug and play," says Captain Jeff Anthony, who has been integral in the design of the new facility.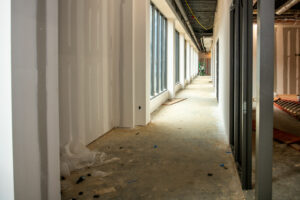 A large multi-purpose room will be used for classes, press conferences, and large meetings. A large evidence room with computer forensics lab will make secure evidence processing and storage possible. There will also be four conference rooms, interview rooms, plenty of office space, a large employee break room and patio; a secure records area; and a vault for secure storage of ammunition and firearms.
Two other unique features of the building are a 24-hour emergency operations center that is tornado proof and will be manned 24 hours a day, 365 days a year. There will also be a one-of-a-kind vehicle-processing bay with a pneumatic vehicle lift. "No one in Shelby County has one of these," says Captain Anthony. "And we will share our resources. We've had so much help from other agencies over the years, we want to return the favor."
"It's very nice and something the city can be proud of," Chief Rigney says. "It will last for many decades. We are proud and excited to move in."