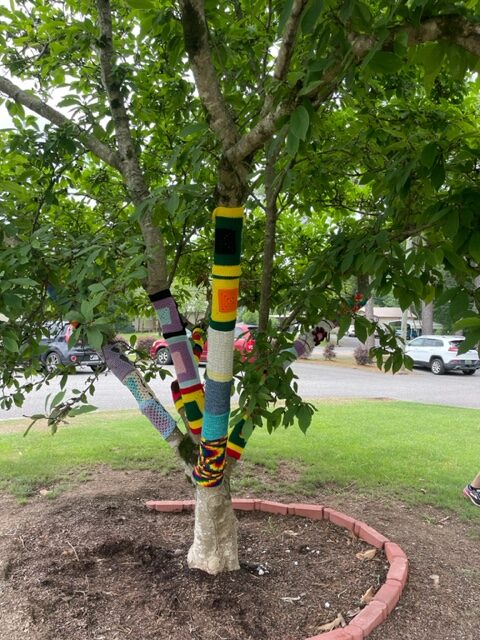 Let's Come All Together Now This Summer!

The Albert L. Scott is excited to continue the Summer Reading Challenge for all ages this summer. Participants will log all reading on the ReadSquared app to win prizes. There will be fun programs and activities for this year's theme: All Together Now. Collage artist Michael Albert will visit on June 11 to talk about his art and give an instructional session for families. Summer favorites like Animals from 4-H, Drama Workshop, Mr. Larry Magic, Science with the Science Lady, and The Burks will return. New this year: Japan in a Suitcase showcasing culture and more, Scrollworks Metropolitan Youth Orchestra instrument petting zoo, Spunky Pig Story Time, Story and visit with V—the statuesque mascot from Vulcan Park & Museum, and The Story Ship featuring comedy-theater, puppets, magic, music, and animation.
Also this summer:
Every child and teen will be able to set their own reading goal for the challenge. Prizes will be awarded according to the percentage of completion toward that goal. Once a participant has attained their reading goal, they'll receive a certificate and be entered into the grand prize drawings at the end.
There will be two tracks for the prize system for the Children's Program: one for children four and under and one for kids five to 10. Younger children will read to earn prizes from the treasure chest, while older kids will read to attain leveled prizes.
In addition, READ & BEAD: Summer Reading on a Necklace (for ages five and up) gives kids the opportunity to build their own unique memento. For each reading level attained, a child will earn beads of varying colors, shapes, and designs to add to their necklace. There will also be specialty beads offered for attending programs.
Older teens (16 to 18) may choose to participate in the Adult Program this year. Teens that opt to register for the Adult Program will fall into the adult prize system but WILL NOT BE EXCLUDED from teen programing. Please note that only YA and adult titles will be accepted in the adult challenge.
Missions Badge for Adult Program—read books set in, about, or has a character from select countries and get a passport stamped. For each country stamped, the reader will get a treat from that country. Once passports have been stamped with five countries, the reader will be entered into the Missions prize drawing.
Grand prize drawings are being automated this year for all programs, so all reading must be logged by 11:59 p.m. on Tuesday, July 11.
All prizes must be claimed by Library closing on Wednesday, July 12.
Registration opens May 1 via the ReadSquared App or at albertscott.readsquared.com.
Participants can begin logging their reading on May 22. Kickoff is Wednesday, May 31 with Urban Pops and a special visit by a character from Shrek the Musical! First day to claim prizes will be June. Prize drawing sneak peek: Alabama Shakespeare Festival, Central Alabama Paintball, McWane Center. (Full list of prizes and sponsors TBA.) Finale and last day to claim prizes is July 12.
Alabaster Library Hosts Lisa McNair
Author shares Dear Denise addressing her slain sister.
In six months, Birmingham and the world will mark the 60th anniversary of one of the most infamous acts of violence during the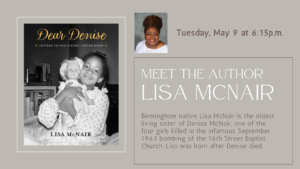 Civil Rights Movement: the deadly bombing of the Sixteenth Street Baptist Church on September 15, 1963. Four black girls died in the blast; another lost an eye, and two black teenage boys died in the violent aftermath. That event shattered not only the church but also the families of the victims.
Lisa McNair was born after her older sister, Denise, 11, was murdered in the church bombing. The Albert L. Scott Library in Alabaster will host a presentation and a book signing featuring McNair who has written Dear Denise: Letters to the Sister I Never Knew. The program will be on Tuesday, May 9 at 6:15 p.m. at the library. Dear Denise… is a compilation of four dozen letters from Lisa addressed to the sister in whose shadow she was raised. The letters offer a look into the McNair family's challenges, accomplishments, and celebrations. Lisa McNair is a Birmingham native and one of two living sisters of Denise McNair.
She is a well-known national public speaker on the topic of racial reconciliation and also leads antiracism workshops. Copies of Dear Denise: Letters to the Sister I Never Knew will be available for purchase. Light refreshments will be served. The event will be in the Nan Abbott Room. Guests can sign up at: eventbrite.com/o/albert-l-scott-library.
Come knit with the Yaya Yarners during Knit in Public Day at the Library, June 10th
The YaYa Yarners will host the second annual Knit in Public Day at the Alabaster Library on June 10.  The event kicks off at 10:00 am and will run until 3:00 pm.  Whether you knit, crochet, weave or enjoy any other fiber arts, join us for a day of fun, fellowship, and prizes.  Bring your lawn chair & a project, and meet under the trees on the library lawn.   In the event of rain, we will meet in the meeting room of the library.  This is a free event! Lunch will be available for purchase.  For more information, contact [email protected].