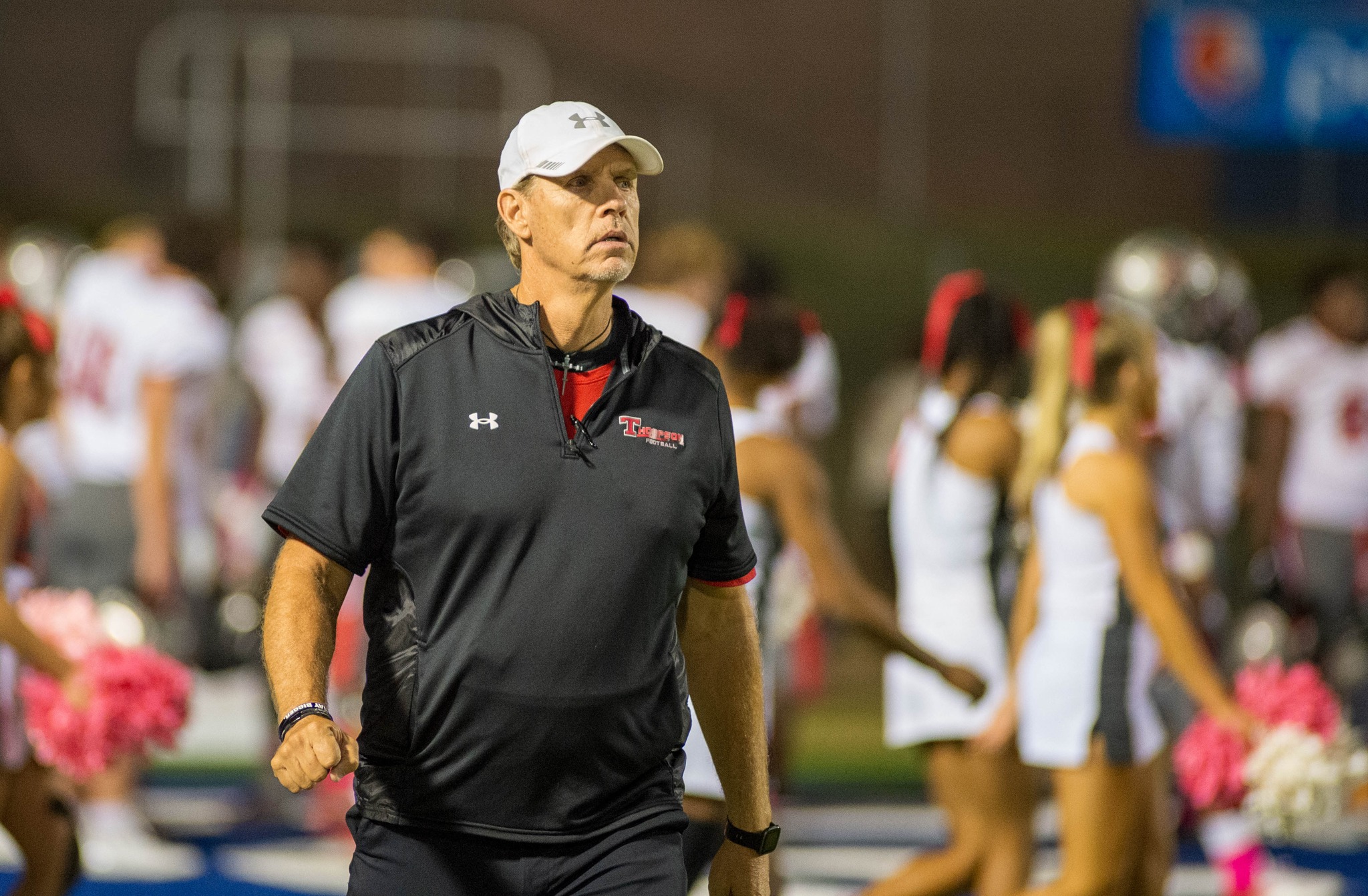 Thompson head football coach Mark Freeman reflects on past success and more to come.
By Barry Wise Smith
Photos by Neal Wagner
When Mark Freeman came to Thompson High School in 2015 after successful runs at Bessemer Academy, Gulf Shores High School, and Spanish Fort High School, he inherited a program that was struggling under three head coaches in a short period of time. Today, with four consecutive state 7A state championships for the Warriors, Freeman is now leading the best team in the state and one of the best in the country.
Having just graduated a senior class who won championships in each of their high school years, the search is on for players to step up to fill those cleats. Of the seniors, Freeman says, "They're winners! They persevered, they worked hard, and they have had a great work ethic. I think they will do great whatever they do in the future. We have several kids who will be furthering their academic and athletic careers in college, and I'm very proud of them for that."
Having lost his offensive linemen and most of his defensive linemen, Freeman and his coaching staff spent spring training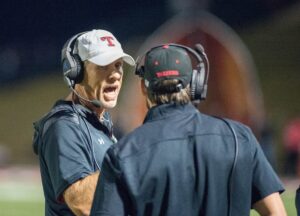 identifying players who could fill those holes. "We're trying to find guys to step in and fill the shoes of guys we lost," Freeman says. "We have to find guys who can step up and make an impact for us. Spring training was about finding those five or six guys who can come in and help us and replace the guys who had been there for so long." Spring training is the time for underclassmen to prove themselves for the next season. "We also find some surprises," he says. "I think we had a really good spring." The Warriors kick off fall practices on August 7. "We lose a week because of our spring training, but it's worth it because get so much out of spring training," Freeman concludes.
For next season, Thompson will once again be competing for a state championship. "We don't shy away from the fact that there will be a state championship at the end of the year," Freeman says. "We want to prepare for that and do everything we need to do to get there. We want to come out and be a really good football team and get better every week. We want to win one Friday night at a time with the goal of getting into the playoffs and try to get ourselves in a position to win another championship."
When you're a four-time consecutive state champion, expectations are high. And sometimes that can be distracting. But Freeman feels confident that his players and coaches know how to handle the pressure. "You can't worry about other people's expectations or let distractions keep you from doing your job," Freeman says. "Our kids and coaches have done a great job of staying grounded. All we can control is who we are at Thompson, and that's what we focus on."
Despite losing some key players to graduation, Freeman looks forward to the new season. "That's some of the fun of it—it's fun to have new kids and watch them grow and be successful and take the place of their brothers before them," Freeman says. "It's exciting to put the puzzle together again and watch the new guys grow and be successful."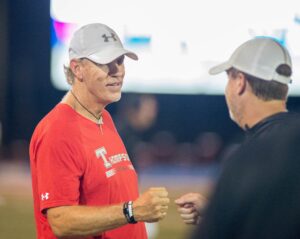 Freeman is a football coach through and through. He loves to spend time at the lake and the beach with his family, but in reality, he doesn't take that much time away from football. When he's in the off-season, he spends most of his time watching film and studying the game. "Most of my spare time is spent watching videos of other teams trying to get better and stronger and more prepared, Freeman says. "It never ends; you have to continue to educate yourself."
In addition to coaching, Freeman sees his role as training future leaders and developing character in his players. "From a character standpoint, we want to create leaders in the school and the community." Freeman says. "We want them to be great students; we're laying the groundwork about what we expect them to be. We have great kids and coaches who care. Most of the kids have been here their whole lives, and they get it. They know if they're going to play football, they can't be in trouble, they've got to have good grades, they have to be leaders in the classroom and the school."
The goal is always to continue what has come before. "We're tying to establish why we've been successful and re-instill that there's a reason for our success," Freeman says. "I don't think we have the best football players every week, but I do think we have a great group of kids and coaches who want to win and understand what it takes to win."
The Thompson Warriors will start the 2023/2024 season in August with the Kickoff Classic in Montgomery playing Opelika at the Cramton Bowl. The second week will see Thompson hosting the national powerhouse IMG Academy from Florida in front of a national television audience. "We'll play the best kids from all over the country," Freeman says. "It will be a really big test for us to start the season."