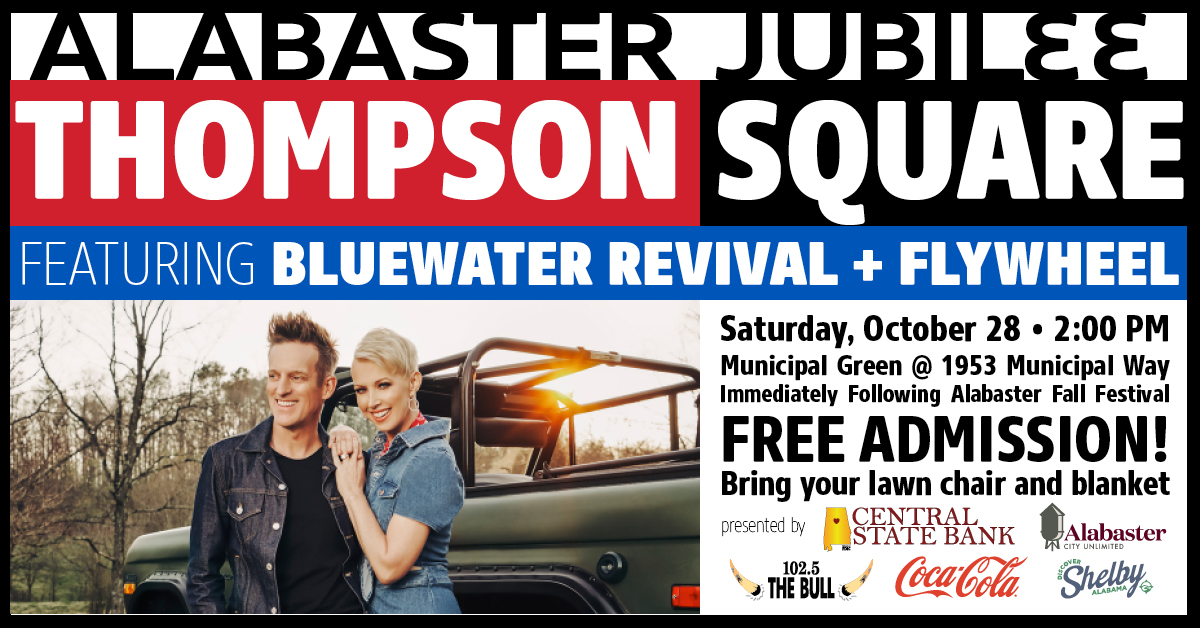 Alabaster Jubilee #3 will take place as Alabaster Fall Fest ends this year. October 28, 2023, will be a big day on Alabaster's Municipal Green, located between City Hall and the Senior Center at 1953 Municipal Way.
Alabaster Jubilee #3, which will be headlined by country duo, Thompson Square. The event will begin at 2 PM on Saturday, October 28, at the green space around the old Siluria water tower, on the grounds of Alabaster's municipal complex at 1953 Municipal Way. This event will immediately follow Alabaster Fall Festival, on the same grounds.
The concert's headliner is Thompson Square. It's been a decade since the husband-and-wife team of Keifer and Shawna Thompson exploded out of Nashville with their multi-platinum mega-hit "Are You Gonna Kiss Me Or Not," and crowds remain hungry for more.
The event begins at 2 PM, and the first act on stage is Flywheel, a local group of rock musicians. Following at 3 PM are Bluewater Revival, an Americana/roots band from Florence, Ala., that has released two albums and are becoming well-known for their moving single, "Before My Fall." Thompson Square performs at 4 PM.
"We've wanted to have Thompson Square in Alabaster for years!" says Jamie Cole, city council member in Alabaster's Ward 5 and Arts Council vice president. "They are a perfect combination of commercial success and artistry; a great blend for this concert." Bluewater Revival are just beginning to gain popularity on streaming platforms. "We can't wait to introduce these guys to our concertgoers," says Cole. "They hail from that Shoals music tradition of Jason Isbell, The Civil Wars, Secret Sisters … just outstanding songwriters with incredible harmonies."
Central State Bank, Coca-Cola, Discover Shelby and the city of Alabaster are among the sponsors for the concert. "The city is a proud sponsor of Alabaster Jubilee #3," says Cole. "And, we are proud to host the event at our Municipal Complex, which will be its home going forward, and the future home of our city's amphiteater."
Fall Fest is a full day of family fun, beginning at 10 AM along the Buck Creek Trail, and including:
Arts and Crafts Vendors ($ required for purchases)
Carnival Rides for children
Food Vendors ($ required for purchases)
Hay Rides
Inflatables
Live Music
Trick-or-Treat Trail for children
Pumpkin Painting for children ($2 per Pumpkin required)
Pumpkin Hunt – find 20 Pumpkins hidden in trees (no prizes, just a fun challenge)
As the Fall Fest event concludes, music will begin on the stage on Municipal Green under Alabaster's historic Silurian water tower.