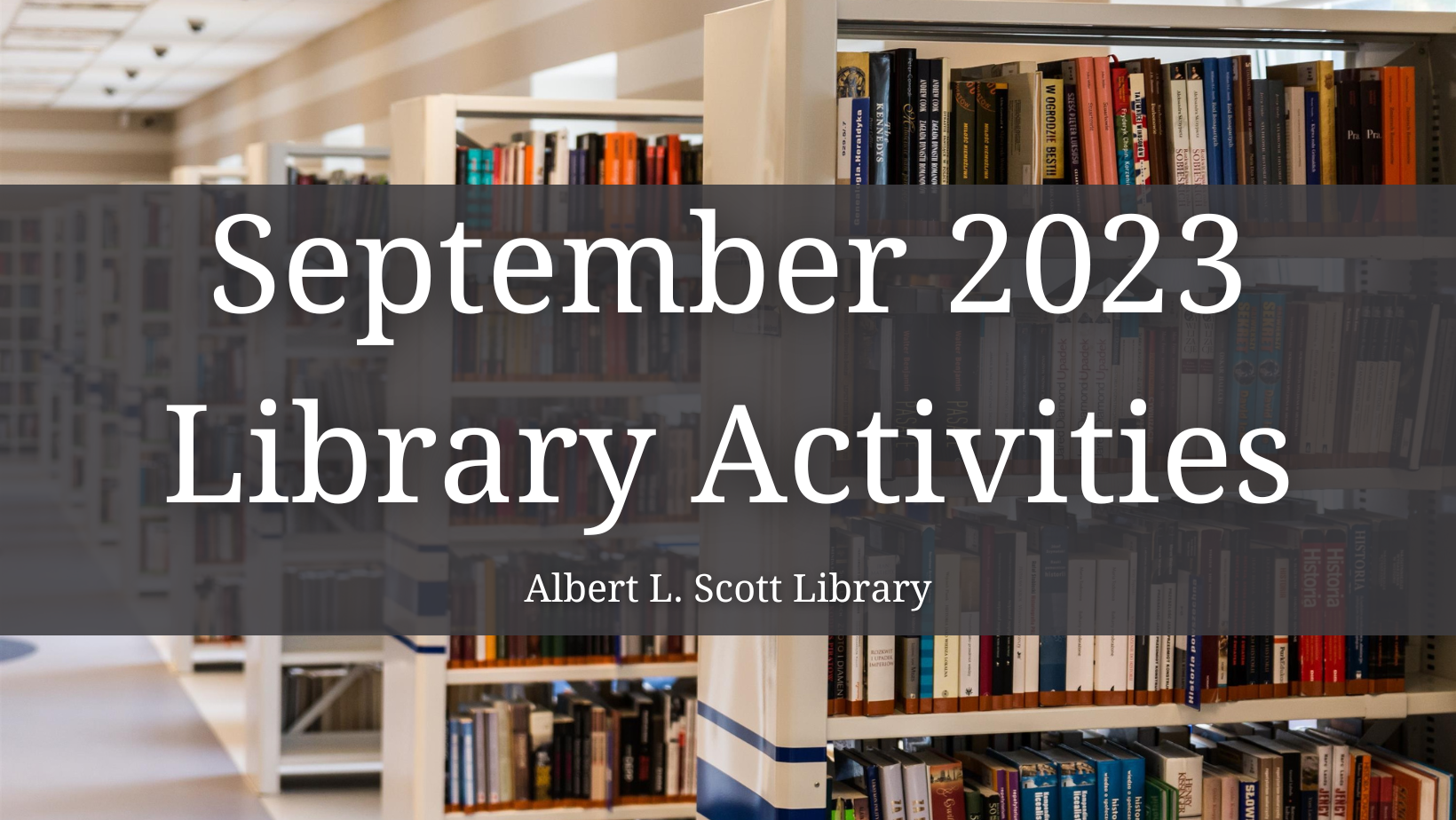 Closed Dates – September 4 – Labor Day
Tai Chi – Wednesday mornings starting September 6th at 10:00 am. Join us as local instructor Melanie Chaney teaches an 11-week course in Tai Chi. Tai Chi is an exercise that improves balance, sharpens the mind, boosts the immune system, and circulates oxygen throughout the body while gently massaging all the joints, ligaments and muscles of the entire body. Wear loose, comfortable clothing and flexible, flat-soled shoes that encompass the foot. Try not to miss any classes because each class builds upon the previous ones. Newcomers will not be allowed after the second class takes place. Space is limited. Participants must complete the Enrollment Form at the front desk before the first class. Program takes place in the Nan Abbott Room.
Shelby County Camera Club – September 7. 6 pm. The Shelby County Camera Club now meets at the Albert L. Scott Library on the first Thursday of each month. The club welcomes those with all levels of photography experience and interest. Program takes place in the Nan Abbott Room.
Adult Computer Classes
September 5. 4 pm. Laser Cutting Basics – This class will introduce you to using CorelDraw software to create designs for using our laser cutter.  The class will also include learning how to safely operate the Library's laser cutter.
September 10. 3pm. Button Making 101 – Learn how to use Canva design program to create custom buttons for fun or promotion.  We will learn how to use the various button machines to make and take your own buttons.
September 19. 4pm. Microsoft Word 2019 – Understand the basic functions and commands that are available in Word as well as formatting and editing documents.
Classes take place in the Nan Abbott Room.
Ya Ya Yarners – September 18 & 25. Monday evenings at 5:00 pm. Members share crochet and knitting talents as well as work on community service projects. This year our group will provide hats and scarves to local charities and will provide shawls to local nursing home residents. Need to brush up on your skills? Want to share your talents with other crafters? Join us for a fun-packed evening of stitching and conversation. For more information, email us at [email protected]. Program takes place in the Nan Abbott Room.
ABC & Ds of Medicare – September 11. 1 pm. Karen Haiflich of the Medicare Information Source will help you navigate through the process of Medicare. Learn about filing, benefits, and any other questions you might have. Program takes place in the Nan Abbott Room.
Friends of the Library Meeting – September 11. 6 pm. Meeting takes place in the Nan Abbott Room.
Library Book Group – September 21. 6:30 pm. Join us to discuss If It Rains by Jennifer L. Wright. Two sisters, struggling against unspeakable hardship, discover that even in their darkest times, they are still united in spirit, and God is still with them, drawing them home. Program takes place in the Nan Abbott Room.
Library Board Meeting – September 26. 6 pm.
Books & Brews – September 28. 6:30 pm. Join us at Siluria Brewing Co. to discuss The Personal Librarian by Marie Benedict. Hired by J. P. Morgan to curate a collection of rare manuscripts, books and artwork for his newly built Pierpont Morgan Library, Belle de Costa Greene becomes one of the most powerful women in New York despite the dangerous secret she keeps.