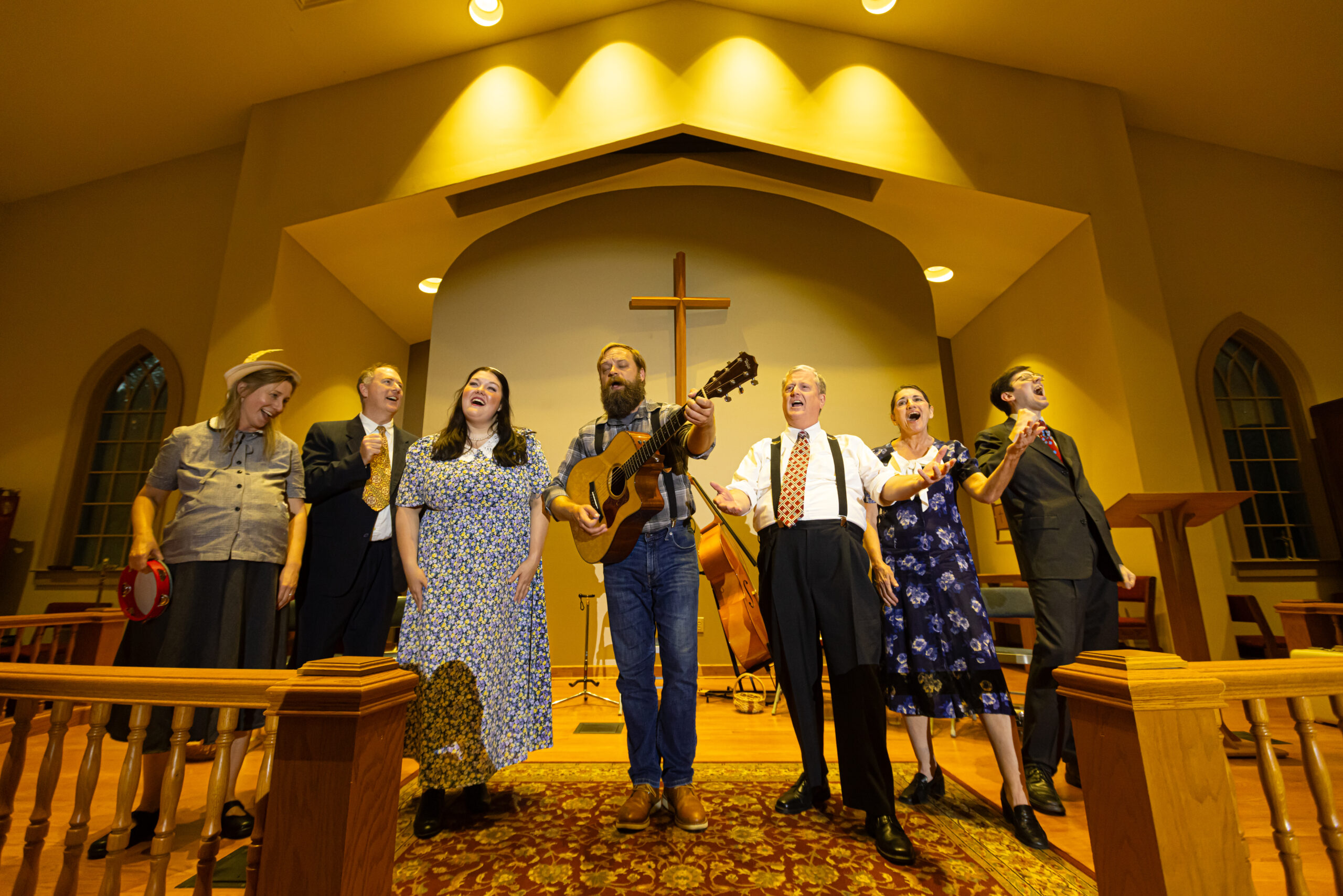 South City Theatre brings award-winning drama, laughter, and music to Shelby County.   
By Cara Clark
Photos by Steven Ross
For South City Theatre (SCT) Artistic Director Donna Williamson, the theater is an all or nothing enterprise. From her first introduction to the stage, she knew it would be a lifelong commitment. "It seems like that's the way it is," she says. "You either love it, and you want to keep doing it, or you hate the whole experience, and you never want to do it again. There really isn't any middle ground. It's either you're all in, or you're not at all because it's a lot of work. I remember commenting that this is really a lot of work, but it's a labor of love."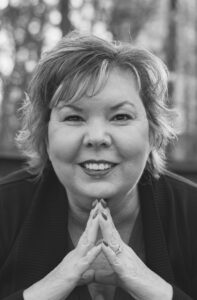 Smoke on the Mountain Homecoming, a musical performed in July in Alabaster was yet another in a line of hits by SCT, a nonprofit, award-winning community theater, begun in Alabaster by Alan and Francie Gardner in 2000. It was a project they nurtured for 12 years with a goal of promoting the performing arts in Shelby County. When Williamson moved nearby, it felt natural to get involved in SCT, where she was later invited to join the board and eventually to take over for former Artistic Director Sue Ellen Gerrells after her retirement in early 2020.
Williamson, who has appeared in almost 50 productions and directed 10, including the award-winning Doubt, A Parable, took the reins of the theater at a challenging time. While in the midst of rehearsal for The Diary of Anne Frank, the Covid pandemic shut down the world. As a nonprofit, keeping the community involved was crucial. "Over the summer, we came up with the idea of having a game show night," she says. "The first one we did was a play on the old Match Game, and they were little fundraisers for us. We would have watch parties at 7 p.m. Friday night for people to join in, and we had a lot of theater people involved. But we tried to also get people who weren't actors or involved in the theaters in any way."
With the success of Match Game, grants from the state, and support from the Alabama Endowment of the Arts, SCT was able to retain its brick-and-mortar space, as well as its place in the hearts of the community members.
Thankfully the 2023 season has seen a full return to normalcy. "It's great to have our patrons back," Williamson says. We've got what we feel like is a strong season, and there's a lot of buzz about it."
One of the joys of the theater, Williamson says, is the immediate feedback the cast feels from the audience. And with all of the work that goes into learning lines and treading the boards, Williamson believes its crucial to get that input to ensure the comic lines are eliciting laughter and the dramatic moments are resonating. "It gets to a point in the rehearsal process where the actors need an audience, because we know what we think is funny, but that does not mean that the audience will think that the same things are funny," she says. "We'll have someone laugh at something that has never been laughed at in any of the shows. And it's just because it reminds them of something. You just never know what will strike somebody as funny."
To keep a finger on the pulse of the audience reactions, as a director, Williamson likes to be in the audience to feel and see the ebb and flow. "I'll stand back, but I can see how they're reacting to things," she says. "That's interesting because I can give the cast feedback. I can say, 'Yes. They're really quiet, but they're with you.'"
Williamson is already looking ahead to the theater's 25th anniversary in 2025, when a gala will be planned for the quarter-of-a-century festivities. Among the significant accomplishments to celebrate is engendering a love of theater and performance among the community's youth ages eight to 19. "We have very active children's programs with workshops in the fall and in the spring," Williamson says. "In the fall, they do a musical, and in the spring, it's a straight play. In the summer, we have a two-week camp where they learn playwriting, makeup, costuming, and all sorts of things. It pretty much encompasses everything you need to know about theater." At the end of two weeks, campers have a showcase where they perform songs or dances and a puppet show. Some write and perform their own plays.
SCT produces six main-stage plays each year and special events attracting approximately 3,000 audience members annually with more than 200 productions on its main stage and in its children's programs. The theater has won "Best in Show" at recent state festivals and represented Alabama at the Southeastern Theatre Conference with Driving Miss Daisy, Agnes of God, Sylvia, Doubt, and 'night, Mother.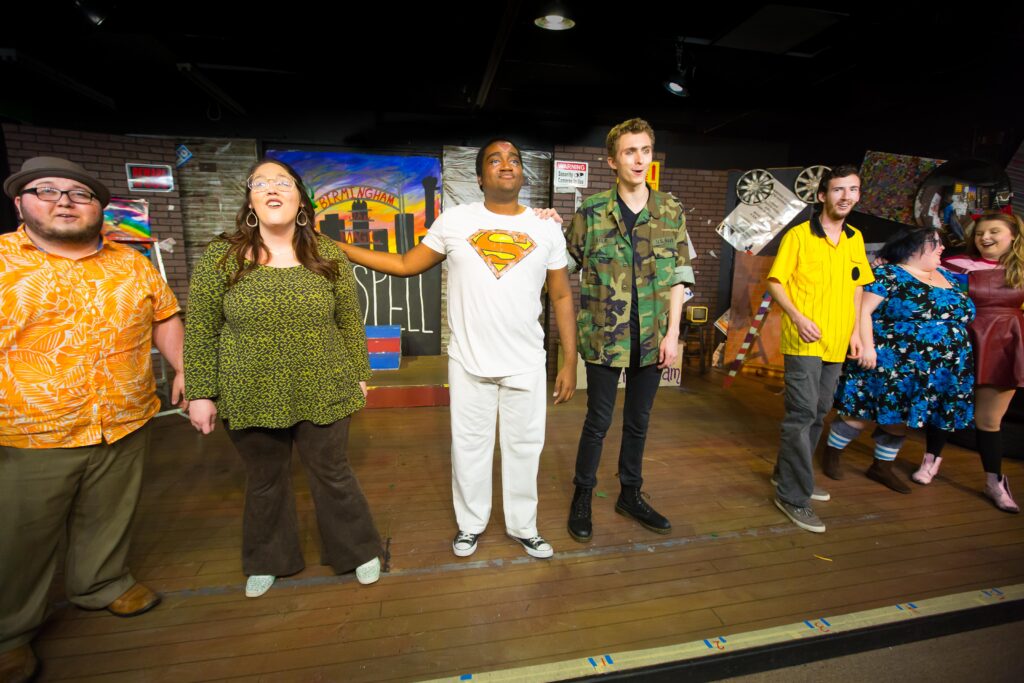 Smoke on the Mountain
Smoke on the Mountain Homecoming showcased the remarkable talents of Madelyn Harbison, Jim Billings, Clint Neville, Jess Smyly, Ryan Gerrells, Nancy Moore Estes, and Michael Wilbanks.  Directed by Sue Ellen Gerrells, with musical direction by William Harper and accompanied on piano by John Allen Bankson, audiences were treated to harmonious voices, infectious energy, and genuine chemistry displayed on stage. The musicals were performed this past July at The Episcopal Church of the Holy Spirit on Kent Dairy Road and the First United Methodist Church of Alabaster.
For more information, visit South City Theatre's website at southcitytheatre.com.