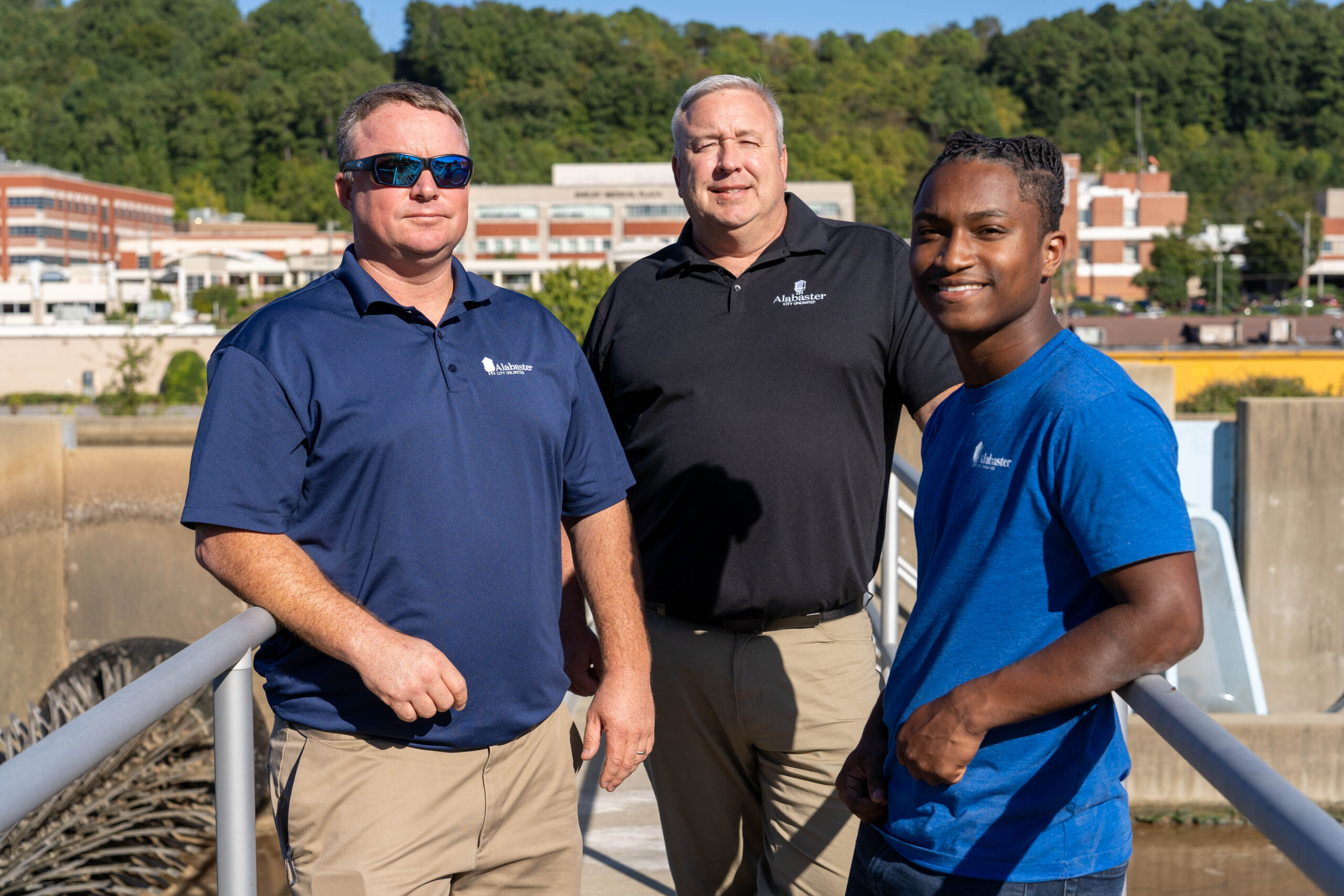 An innovative new Internship program between Thompson High School and the city government of Alabaster takes flight.
The city of Alabaster is finishing up year one of an innovative internship program called Alabaster Strong, where the city paired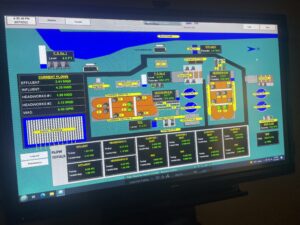 two Thomson High School students for paid internships with the Fire Department and Environmental Services. To kick this off last year, Human Resources Director Tracy Worley set up a booth at the high school to explain the internships to potential applicants. Devarye Mack applied and got the job with Chief Tim Love at the Fire department, and Amari Jackson, who plans to study chemical engineering, went to work for Environmental Services. Alabaster Connection interviewed Fred Hawkins, Director of Environmental, Engineering and Building Services, HR Director Tracy Worley, and senior Amari Jackson to learn more about the nuts and bolts of this exciting program and what the future may hold.
Alabaster Connection: How did this innovative program get started?
Tracy Worley: Mayor Brakefield and the City Council want the employment population of the city to reflect the diverse makeup of Alabaster. We have seen a decline in the labor market just as everyone across the country. When sitting down as leaders, we all agreed that we have an exceptional resource right here with Thompson High School. There is no greater opportunity than to recruit from your hometown where individuals grow up in and have a connection. Through these conversations, the internship program was created starting with the Fire department and spreading to Environmental services.
Fred Hawkins: Director of Environmental, Engineering and Building Services: We were having a hard time recruiting in our industry, and it's hard to educate people about what we do. Hardly anyone in the high school knew about us. So, with Tracy implementing this program, we were able to educate students and get more people interested in our field, and we needed help so instead of having to hire and train a full-time certified operator, we were able to hire Amari who has done really well. It's a win win.
Amari Jackson: I found out about the program during my junior year. We had a senior night at THS, and they were talking to us about prep for college and careers, and after the meeting we went into a room where there were presentations for those who might want to offer internships to upcoming seniors. I was talking to Mrs. Worley about the wastewater treatment facility, and she told me about what they did in the lab and how that ties into chemistry. That was interesting to me because I want to be a chemical engineer.
AC: How is this good for the student? 
Tracey Worley: This is a paid internship working alongside professionals learning skills that are valuable long term. This is not a program of just shadowing and watching. These interns apply and go through a competitive process just like a standard full-time candidate. They learn interview skills, how to work in a team environment, and learn how the city in which they live works as a cohesive unit to provide services to its citizens. These hands-on experiences are skills that will go well beyond an internship program, making these individuals better prepared and marketable in business.
Fred Hawkins: It helps young people who live in Alabaster better understand how a major city government works. We want to help out our schools. We want high school students to have the type of chances that will help them better their future.
Amari Jackson: This internship looks good on my resume for getting into colleges and for scholarships.  And when I look for a job, working for the city will look good on my resumé. Working for Mr. Bill (Plant Manager Bill Atkinson), I learned how to clean pumps from the pump station and to take CBOD readings and E.coli readings. I learned how to use the computer software. Basically everything from cutting grass all the way up to taking chemical samples and everything in between.
AC: What departments does this cover now?  
Tracy Worley: We started the internship program last year with the Fire department. After receiving strong interest and with the success of the program, the City Council approved Environmental Services to be the next department over the summer. It was during a rising senior event held at Thompson that we identified Amari Jackson for the environmental services intern. He had an interest in chemistry, and after discussing with him the science and technology that takes place daily at the plant, he was excited and all on board. Our goal is to expand the program across each of our departments in the city.
Fred Hawkins: We are trying to set an example. And then we want to let everyone know how successful this is. To promote this whole idea. If we can we would like to expand this to have interns in both the plant and the collection system.
AC: How does someone apply? 
Tracy Worley: Department Heads and HR work with Thompson High School career coaches and counselors to reach students through presentations, email communications, career nights, and teachers to share internship opportunities in addition to social media campaigns by the city. Once the internship is active, the city posts the position on the website (cityofalabaster.com) under HR Department and select employment opportunities. All open positions within the city are posted on the website for candidates to apply.
AC: How is this good for the city?
Tracy Worley: Providing services to the citizens of Alabaster is always at the forefront of our leadership and all employees of the city. The internship program is a partnership that invests in the future for potential candidates. Having an employee who is tied to the community and has firsthand training and exposure makes for a better employment relationship as those opportunities arise. Expanding recruiting and marketing efforts showcasing the exceptional benefits of working for the city is important in today's tight market. While the city can't hire every intern full time, a successful program will generate activity and opportunities for these students to share experiences and this is the best recruiting around!
Fred Hawkins: It allows us to fill important positons that we need filled in some city departments, and it helps us educate and hopefully retain some of the best and brightest students at Thompson who might want to work with us full time after high school or college. Selfishly we want to promote Alabaster, and so we want more people to learn about how our city and everyone is struggling to hire qualified people.
Amari Jackson: I'm always telling my buddies how the sewer department works. I never had any idea. I never even knew to wonder how a city disposes of its sewer waste.
AC: What does a student need to have in terms of qualifications (grades, activities)? 
Tracy Worley: The program outlines specific criteria for eligibility to apply for the program. Students must be in good academic standing with a minimum C average, currently be a junior or senior, and provide two letters of recommendation from the school administration identifying how the student interacts with students, staff, and coaches. Attendance and accountability are important in any job, and this is the same for the interns. The goal is to build a future workforce and provide skills the student can use in careers, so we look for the same characteristics that we would in a standard hire for a full-time position.
AC: What is the time commitment?
It varies. We are fortunate that many departments in the city offer flexible schedules. We work with the intern and school to ensure that grades are maintained, and work hours do not cause conflicts; however, these are professional positions, and interns may have to decide what is most important to them in making decisions between the internship and extra activities at school. Again, these types of decisions provide growth for the students and maturity that will provide helpful in their future.
AC: Devarye Mack is now full time. How did that work?   
Tracy Worley:  The Fire Department received approval from the City Council to add a LT position to the department. With this promotion, other firemen had opportunities for promotions resulting in an entry level fireman position to open. The fire interns participate in the same testing process as a standard fireman applying for a position, which consists of a written test, formal interview, and physical ability test. Scores are ranked in order of highest to lowest and a list is complied. Devayre Mack scored high in all areas and was the next person on the eligibility list, the timing of all of this aligned, and it was a success for the program and the intern. Devarye is currently in fire school and is expected to complete the program early November where he will officially be a certified firefighter 1 with the State of Alabama and a member of the Alabaster Fire Department. We could not be more excited to have this hometown young man join the Alabaster team!
Amari Jackson sums up the Alabaster Strong internship up with this: My friends sometimes complain about their jobs, and I'm like, 'I can't wait to go to work.' It's just that coming here is fun. I enjoy working every day and learning. I hope this is just the tip of the ice berg.