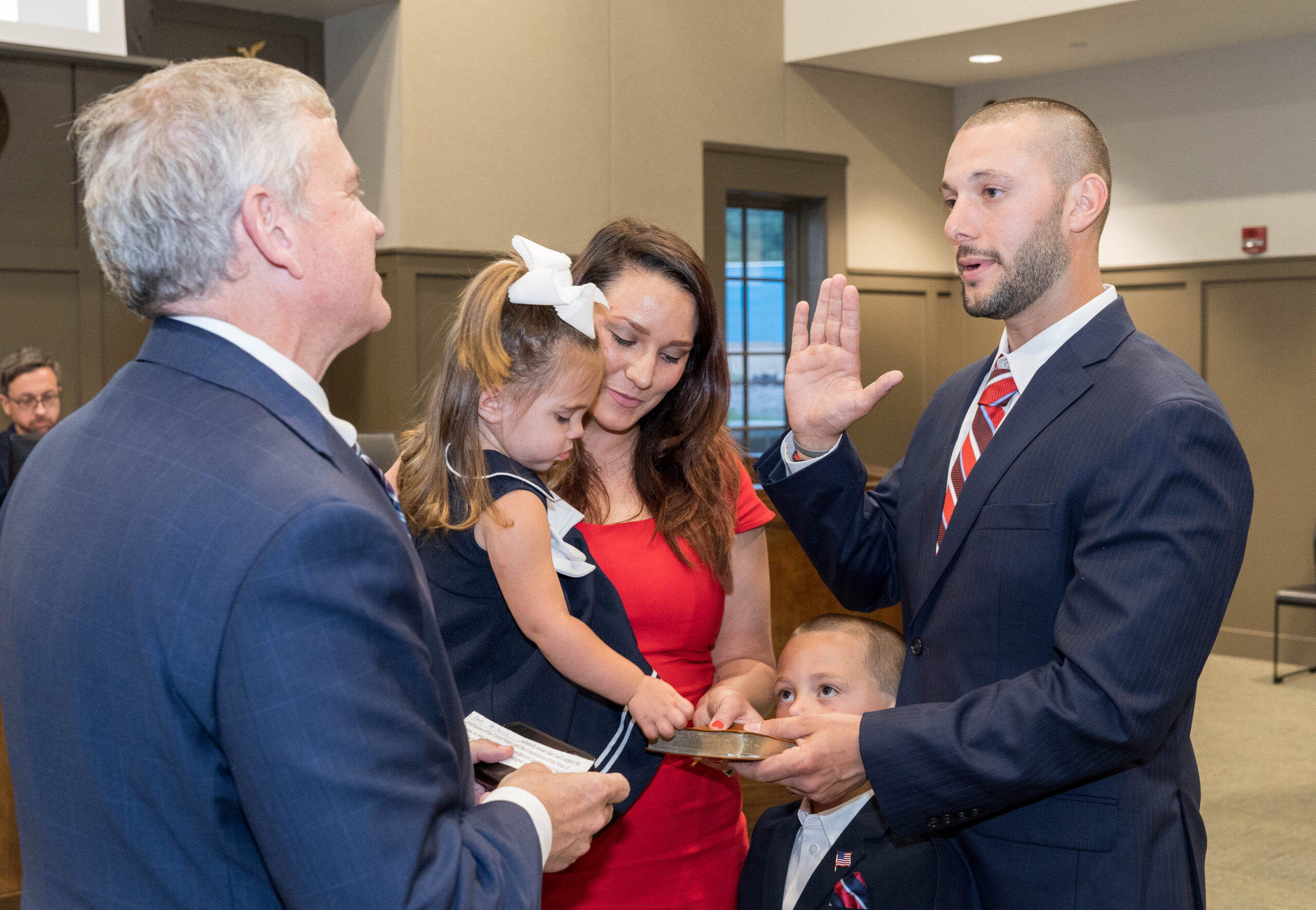 Alabaster Connection: You have been appointed to fill the Ward 6 City Council seat. What made you want to serve on the City Council, and what was the appointment process?
Zach Zahariadis: The opportunity to serve on Alabaster's City Council fell into my lap, as Seth Gandy is an incredible friend of mine. He shared with me what the position entails, and after speaking to my wife, I jumped at the opportunity to serve. The process of being appointed to the Ward 6 position included conversations with current council members, attending meetings, and being sworn in. The swearing in ceremony was a day that was very special for my family, and the first time sitting in the official seat was an awesome feeling. I have big shoes to fill following Seth, but I will give my best to pick up where he left off!
AC: How long have you lived in Alabaster, and where in Ward 6 do you live?
ZZ: I have lived in Alabaster for 12 years after moving here in 2010 from my hometown of Detroit, Michigan. My family and I live in Stagecoach Trace.
AC: What committees will you serve on? First impressions of City Council meetings?
ZZ: I started attending council meetings before I was officially sworn in to help me get an idea of what to expect; attending the meetings and hearing the current council's updates and concerns about the city was encouraging. Observing the meetings early really made me eager to become a part of an organization that is devoted to making Alabaster be all that it can be. I will serve on the Parks and Rec and Public Works committees. I have a passion for youth athletics, and I believe creating the best environment for our children is a key to success as a city.
AC: What do you see as the biggest issues facing Ward 6 and the city as a whole?
ZZ: As a resident of Ward 6, I believe the current issues we face are the widening of Highway 119, which will cause some growing pains that we will need to address in order to keep the public at ease through the entire process. Also, the multiple new homes and neighborhoods being built off of Smokey Road will create more traffic for everyone. This is a challenge for us as a city, to mitigate complaints by finding good options such as building cut-through roads, installing traffic lights, etc. As Alabaster continues to grow, one of the biggest issues we will face is maintaining the small city feel, even though we really aren't that small. I feel like that is a main draw to why people love Alabaster and will continue to return through future generations. My plan is to be an ear for the people who need to be heard and do all that I can to help.
AC: What goals have you set for yourself, or what do you want to accomplish during your remaining term?
ZZ: My goal is to listen and serve. I want the community in Ward 6 to know they can come to me and trust that I will listen and do my part to help. I hope to serve Ward 6 for many years to come. My biggest goal would be for all residents of Ward 6 to know how important their concerns are and that I am willing to do everything in my power to help. I want them to know I genuinely care about people, and I have a servant's heart. I hope my words and actions will always reflect those qualities to others around me.
AC: What is your day job?
ZZ: I am a dispatch and logistics coordinator at Smith Family Companies in Pelham. I have been there since October 2020, and prior to this job I worked as a Freight Broker in Hoover for Spikes Freight Service. I have been in the transportation industry for the majority of my career. One of my passions is coaching, and I have coached many different athletic teams since moving here in 2010, and will continue to coach for many years to come.
AC: Tell us about your family.
ZZ: My family and I have lived in Ward 6 for five years; prior to this we lived in Berryhill near Evangel. My wife has been a special education teacher at Creek View Elementary School for nine years. Our son Roman (6) just finished kindergarten at Creek View, and our daughter Analeigh Faith (2) attends daycare in Alabaster. We love the community of Alabaster and plan to raise our kids here and hope they return to Alabaster as adults to raise their families.
Council Comments:
Jamie Cole, Ward 5: Thanks to all the sponsors who made CityFest a success and to the City of Alabaster for investing in arts and events in our great city! We are already looking forward to Alabaster Jubilee No. 2 on October 22.
Stacy Rakestraw, Ward 3: Congratulations to the Thompson High School varsity softball team for winning the 7A state softball championship!
In 2016, Shelby County leaders and city leaders came together to take a proactive approach to the increasing trend of substance abuse and addiction among our students and young adults, as well as equip our families to respond to their loved one facing these challenges. The result was Compact—a collaborative initiative designed to address the full spectrum of substance abuse through prevention, intervention, and education—a unique approach that is the first of its kind. Directed by the Shelby County District Attorney, the County Manager, and the Shelby County Sheriff, Compact uses career law enforcement officers, who are specialized investigators, in an attempt to gather information from school resource officers, coaches, teachers, parents, community leaders, etc. in hopes of identifying students and young adults who are at risk of substance abuse and addiction or already involved. Our investigators share the information with parents and then connect parents with proven resources to help address this challenge, including:
• Other families who have been through this and are willing to work with them and answer questions
• Faith leaders who have volunteered to help
• Family counseling services
• Specialized mental health and substance abuse services such as Central Alabama